Where would you be without good bait when fishing? Probably in a state of despair and agitation.
Bait can come in all shapes and sizes but a favorite type of bait for many anglers is live bait. This is not only more fun to use than regular artificial bait, but it can also be far more effective.
By presenting your targets in the water with a food source of theirs, you will have a much higher chance of attracting them to your lure. They say that a scent draws a fish and this is absolutely true. Live bait will increase your chances of a catch.
It's all well and good using live bait but you need to keep it in a secure, top-quality bucket. Poor quality buckets will ruin your live bait long before you will be able to use it.
You will need to keep your fishing bait alive before and during your fishing trip so an efficient storage bucket is vital. Transporting live bait in some traditional live bait containers is ineffective and these can be hard to carry around on fishing trips.

If you are reading this, you have probably tried finding the best aerated bait buckets for minnows and more. If so, you know how stressful and hard it can be to find the right one.
We are here to help as we have researched the best aerated bait buckets on the market and included in-depth reviews of our top five choices. We have also included a helpful buyer's guide with factors you should consider and some FAQs that you may have.

In a rush? Wait no more as here is our top choice for aerated bait buckets:
Our first choice is a great quality, affordable bucket with a solid lid to keep your live bait secure. The design of the Frabill Ice Aqua-Life Bait Station is simple and slick with the aerator cleverly hidden away.
What makes this stand out from the rest is its convenience. It is ideal for small fishing trips that last a few days. You will have no problems carrying this bucket with its lightweight design made for ease-of-use.
Its simple design works perfectly. It is made from plastic with an insulated liner and a plastic handle that is easy to grab and hold. The bucket's cover is well designed too. The aerator pump is hidden neatly away inside the lid within a compartment.
The hose and air stone are situated inside for you to insert some batteries. The pump works very well and is able to last for several days on one set of batteries.
Perfect for a few days away, the Frabill Ice Aqua-Life Bait Station is a budget-friendly choice with a 1.3-gallon capacity. The 6 gallons of water this watertight bucket can contain will ensure your minnows and live bait will be kept securely inside.
Pros
Tough and durable design for long-lasting use
The self-contained bait bucket system has an insulated liner for extra security
Tangle-free netting prevents any hook snags
Aerator is neatly hidden away inside a compartment in the lid
One set of batteries can keep the pump working for several days
Cons
Can only hold around 1.3 gallons which is less than some aerator live bait buckets
The Engel 13 Qt Live Bait Cooler & Minnow Bucket is a fantastic lightweight and compact container. Its airtight EVA gasket seal ensures your live bait is kept intact within the bucket for long periods of time.
You will love how well sealed this bucket is and how secure it feels. You'll also love its air hose on the top of the lid. This stops any water from spilling over in your vehicle or surroundings when in transport.
Although pretty loud. The Engel 13 Qt Live Bait Cooler & Minnow Bucket utilizes a 2-speed pump to maximize aeration and battery life. This power will ensure your batteries last longer than many other pumps.
A superb feature of this bucket is its netting. You won't have to fish your hand around the bucket to try and find your shrimp or panfish. Simply lift the net out and grab a hold of whatever you want.
The Engel 13 Qt Live Bait Cooler & Minnow Bucket is completely water-resistant so it will protect the motor in all conditions. If you wanted to change the bucket into a cooler, all you have to do is remove the pump and hose. A truly remarkable aerated bait bucket.
Pros
Made with an airtight EVA gasket seal recessed ergonomic to keep your bait alive and kicking for days
Utilizes a 2-speed pump to maximize aeration and prolong battery life
Entirely water-resistant to protect your motor from getting damaged
Can easily remove the pump and hose to convert the container into a cooler
Comes with a sturdy net to easily grab your live bait when needed
Cons
The motor tends to be a little loud for some users
This is definitely a keeper if you house your live bait at home regularly. The Marine Metal Plastic bucket is made from the best quality material to leave you safe with the knowledge that you have a strong, long-lasting aerated bait bucket.
As well as outdoor use, this is perfect for indoors. Its durable build will keep your bait alive for up to 44 hours on a single charge of D-size batteries.
If you're an avid fisherman, this could be the one for you. The batteries have surprised many users as they can last much longer than anticipated. It is also extremely compact and lightweight making it ideal if you fish in a kayak or small boat.
It will maintain a constant water temperature thanks to its superb aeration. Don't worry about knocking the Marine Metal Plastic bucket about as it has an impact-resistant case with rubber booted switch.
Special weighted air stones help provide better dissolved oxygen and its multi-purpose lid is of a large size. You will find it easy to open for easy bait net access and tackle. If you regularly indulge in ice or crappie fishing, this is ideal.
Pros
Maintains a constant water temperature to keep your bait alive for long periods
Batteries run for up to 44 hours making it perfect for a few days away fishing
Impact-resistant case with rubber booted switch to keep it in shape no matter what
Made with a new-multipurpose lid for easy access to bait and to use as a cutting surface
Dip nets come included with the bucket to save you money
Cons
Very compact size and not suitable for large amounts of live bait
Now for something a little different. Ii may not be a bucket in the broadest sense of the word but it is an excellent aerated live bait container. Regardless of the weather, the Frabill Magnum Bait Station will create the best environment for your bait to survive.
Not only is it easy to transport, but this bait station is also heavy-duty with an injection-molded body to keep your bait at any temperature.
You can even use this for other reasons such as converting it into a cooler for a day out in the sunshine. Its commercial-grade foam insulation and integrated aerator ensure your bait are in the best possible hands until they are needed.
The two-speed aerator is directly integrated into the lid and is completely water-resistant. Intense testing has taken place with the Frabill Magnum Bait Station. It has been used in below-freezing temperatures and still functioned superbly.
Its handle is engineered to withstand heavier loads and if it gets a little too much on the hands, you can use the optional adjustable shoulder strap.
There are so many great features with this container but what stands out the most is the lift-out liner and measuring ruler. This allows for easy retrieval of bait and a simple measurement of how much you want.
It is totally water-tight with a gasket close on its top and solid, durable latches that will refuse to rust.
Pros
Made with a heavy-duty, molded injection body to protect your bait at any temperature
Can easily be converted into a cooler when not used for live bait
The two-speed aerator is built into the lid and is completely water-resistant for all conditions
Includes a lift outliner and measuring ruler molded into the lid for easy retrieval of bait
Cons
Air pumps are not water-resistant
Some users have said it is a bit loud when in use
Best Aerated Bait Buckets For Minnows And More Buying Guide
So there are your top five aerated bait buckets. Although these were the best we found for keeping your bait fresh and alive for long periods, we want you to consider some more factors before heading out and buying one.
Here are some important things to keep in mind when looking for a good-quality aerator bait bucket.
Built-in aerators
Built-in aerators are a feature you should look out for when buying a new aerator bait bucket. These buckets usually have a slick design where the aerator is integrated into the lid, out of sight.
Those that have the aerator hanging from the bucket's side are prone to damage and can be affected by certain weather conditions more. The bucket just looks better and smarter when the aerator is hidden too.
Clip-on aerators
If your bait bucket doesn't come with a hidden, built-in aerator, it will most likely include a clip-on style. This is the most common type of aerator bucket where you clip the aerator onto the built-in clips on one side of the bucket.
These aren't as protected as built-in models but are far easier to attach and replace if necessary. Built-in aerators are more hygienic but clip-on versions do a great job for a smaller price.
Insulated designs
To keep your bait alive for a good amount of time, you need to regulate the temperature inside. Buckets that are insulated will keep the interior at a constant temperature and prevent the contents from getting too hot or too cold.
The best buckets will have insulation injected into the walls of the bucket for maximum levels of insulation.
Dip-nets
Dip nets are a fantastic feature with some bait buckets. Some models come with a ready-made dip net inside so you can easily retrieve your bait.
This is a quicker way of rubbing your minnow as you just get a hold of the minnow without any fuss and struggle. Some buckets don't come with a prepared net but have clips so you can attach a dip net for further use.
Fresh water
If you want to keep your bait alive for extended periods of time, you should consider keeping the water fresh.
Although aerated systems should keep the water at a constant temperature, the water can sometimes become stale. This water can become poorly oxygenated and contain toxins that will kill your bait much sooner.
It is recommended you change the water every hour or so when fishing, depending on its color. Always be careful when doing this as you don't want to lose any bait in the process.
Type of water
You should avoid using tap water when filling your bait bucket as this contains additives that are toxic to some baitfish.
Local streams or rivers are a far better choice. If these aren't nearby, consider using spring bottled water.
Maximum capacity
You should always check the maximum level of water your bucket can hold. Overfilling your container can limit your bait's movement and space and affect its lifespan.
If it is too crowded, there will be less oxygen for each piece of bait and they will be exposed to higher levels of toxins. If you plan on keeping your minnows alive for long periods, you should limit your bucket to two layers of minnows and live bait.
Minimize the stress of live bait
If you have a poorly designed container or one without a net, constantly putting your hand in to unsuccessfully grab a minnow can stress the little guys out.
Every time you put your hand in and miss one, they will become more agitated and this could lead to a shorter lifespan. This is why containers with nets or better designed buckets are the best option.
Frequently Asked Questions
How do I use a bait bucket?
The good news is that bait buckets are very easy to use. First, you should find cool water that is sediment-free.
As we discussed, clean water should ideally come from streams, rivers, or bottled spring water. Dirty water could block our aerator damaging the whole system.
When you have your water ready, simply fill the bucket. As long as your aerator stone is towards the bottom of the bucket, it should dissolve the oxygen better into the water. Install new batteries, pick up the bucket and you're ready to go.
How long will bait live in the bucket?
This depends on a few factors such as your bucket's design, its size, and its level of insulation. Different kinds of bait live for varying times. Minnows should live for around 24 to 48 hours in cool, oxygenated water.
Shad are harder to keep alive. You will need to add about a handful of non-iodized salt to help keep them alive for some time. Due to their dirtiness, shads may need fresh water throughout the day to keep them alive for a full day's fishing.
Shrimp need a lot of space in your bucket. It is recommended you use two bait buckets as opposed to one to avoid overcrowding. With proper care, shrimp should live for up to 24 hours, depending on their numbers in the container.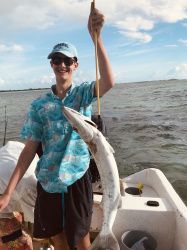 Latest posts by Andrew Marshall
(see all)