Sometimes a baited fishing rod is not the best way to catch the species you're interested in. Especially if you are quite concerned about the quantity of lake and sea critters you want to pick up.
It can often be far easier to use a landing net instead, and you can often get a more successful haul.
But not all landing nets are created equal - some are way better than others. A good landing net works to protect the fish so that if you catch a species you don't want, you can simply release it back into the water.
And to that end, a top-quality landing net should be coated, and thus be more gentle against the species' skin, and make releasing the fish that much easier.
We've been checking out what landing nets are available on the market at the moment, and after much deliberation, we were able to handpick our top 5 favorites. Our reviews on these are coming up very shortly.
Here goes…
Like the Ego S2 Slider, the Ego S1 Genesis also has interchangeable accessories you can attach in place of the net (the same ones).
The Ego S1 Genesis is super lightweight, you barely notice you have a net in your hand.
It doesn't feature an extendable handle, but it's still a very good handle. Durable and with a comfortable non-slip grip.
And if you manage to drop it into the water, it won't sink, it will float.
There's a choice of different types of netting to choose from with this model. You could go for a clear rubber mesh, a large deep rubber mesh, a nylon mesh, a PVC coated mesh, a rubber-coated nylon mesh, or a regular rubber mesh.
Please note that the price of the landing net depends on which size of net you decide to get.
Pros
Interchangeable end pieces
Very lightweight, little drag
Won't sink if you let go of it
Strong, durable handle with good grip
Many types of netting to choose from
Cons
Doesn't fold down for easy transport
The accessories are sold separately
Handle not extendable
What we love about this landing net is just how portable it is. While it has a telescopic pole that extends up to 27 inches, you can fold and collapse it right down to just 17 inches for carrying around.
You could easily fit it into a backpack when collapsed. Or you can make use of its belt clip. And it's lightweight too, weighing just 11 ounces.
The net has a triangular 12 inch opening with a base that mirrors it at a depth of 7.5 inches. This size of landing net can catch all manner of fish species.
The net is composed of a durable, knotless nylon material hexagonal mesh. It's completely non-absorbent so you won't get any waterlogging or any nasty odor absorption. It's also a fish-friendly material that won't damage the fish scales at all, so it's a great choice for when you want to catch and release.
The net's handle is composed of a tough high-density carbon fiber combined with fiberglass. And better yet, it also features a skid-resistant EVA handhold, so no matter how splashed you get, you don't lose your grip.
And it's available at an excellent price and is suited for fishing in rivers, lakes, or the sea.
If you decide to buy this one, please be careful which one you select on the Amazon page, because there are 4 different ones to choose from in different sizes.
Pros
Collapsible for convenient transport & storage
Skid-resistant EVA handhold
A size that can capture many species
Fish-friendly nylon material mesh
No nasty odor absorption
Cons
Some customers were disappointed that the net only telescopes a few inches
Here's another folding landing net that's proved very popular with customers.
The pole of the net reaches 23 inches when fully extended, before forming a triangle opening, with two 15 inch sides and one 16 inch side.
Then the net reaches a depth of 11.8 inches. Granted it doesn't sound that big, but it can easily accommodate a wide range of species.
And when you're not using it, it can fold down to just 17 inches, and comes with its own case, making it a breeze to stash in a backpack or holdall, without getting other items wet. Or you can make use of the belt clip.
The net itself is composed of a durable, hexagonal nylon mesh, that's been designed to ensure that the fish do not get at all harmed when caught, making it a great option for catch and release.
The net is also non-absorbent which means you don't have to take any nasty fish smells home with you.
The telescopic pole meanwhile, is made from corrosion-resistant aluminum, and as such can resist both bending and cracking.
And that's not all - there's also a skid-resistant handle, so the net won't slide away in your hands no matter how much you get splashed!
If you decide to buy this one, please be careful which one you select on the Amazon page, because there are 6 different ones to choose from in different sizes.
Pros
Collapsible & comes with a carry case
Durable, non-absorbing nylon net
The netting is fish-friendly for catch & release
Several different sizes to choose from
Corrosion-resistant and skid-resistant handle
Cons
Only telescopes a few inches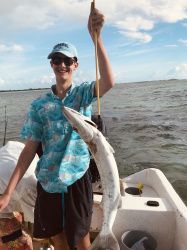 Latest posts by Andrew Marshall
(see all)