Any aspiring angler should know that a trolling motor battery is essential for silently moving across the water's surface so you don't disturb the fish below.
The trolling motor system is a hugely beneficial piece of equipment for fishermen who want to avoid spooking and scattering any schools of fish, as this will make it harder for you to catch one of them.
As such, you'll want to make sure you invest in the components of your trolling motor to ensure maximum efficiency and reliability.
Thanks to recent advancements in the technology used in angling equipment, modern trolling motor batteries offer a serious upgrade from the batteries that came before.
They have a larger power capacity and despite their extended lifespan they require much less maintenance, so you're less likely to end up stuck without power when you need it most.
Even with these improvements, it can be tricky wading through all that the market has to offer to find the best trolling motor battery to suit you and your fishing boat's needs.
That's where we come in. This article has compiled a list of the 10 best trolling motor batteries that are currently available.
Buying your battery online is perfectly fine as they're completely sealed, but we've also included some of the most frequently asked questions to answer any queries you may have regarding your purchase.
What do I Need to Know Before Buying?
If Sealed AGM or Wet Cell Lead Acid Batteries are Better:
In a choice between AGM and Wet Cell, we definitely recommend the former.
They may be a pricier option but they require much less maintenance and will last for a longer period of time than a Wet Cell battery will.
However, Wet Cells are the more common choice despite their shorter lifespan. They rely on electrolytes (water) to flood the lead plates which increases the overall weight.
Frequent maintenance to check on the fluid levels and to see if there's any sign of interior wear and tear is also required.
What Size Batteries You Will Need:
This will depend on the size of your trolling motor, as you'll need something that's powerful enough to run it for the desired length of time while you're out on the water.
This is classified by battery group and each size has a different amperage output.
Group 24 battery: 70 to 85 amps per hour at 12 volts
Group 27 battery: 85 to 110 amps per hour at 12 volts
Group 31 battery: 95 to 125 amps per hour at 12 volts
You can easily check what group size battery you need for your trolling motor system by checking the size of your current battery.
This information is most often found in the manual that comes with the battery or you can just as easily do a quick search online to find out.
If You Have Enough Reserve Capacity:
Another important consideration should be the amount of reserve amperage draw which is the length of time the battery will last before it dips under the minimum voltage.
A few examples of this include the following:
At the lower end of the power scale, a motor that weighs 30lbs will have a maximum draw of approximately 30 amps
At the higher end of the power scale, a motor that weighs 112lbs will have a maximum draw of approximately 52 amps
In the middle of this, you'll find that a 70lb-motor has a maximum draw of approximately 42 amps
Whether Bigger Really is Better:
Spoiler alert - it is. The bigger and heavier your trolling motor battery is, the more lead sits at its core.
This, in turn, means that your battery will boast a longer run time without as much of a need for frequent charging, so the lifespan of the battery will also last for longer.
Don't forget to think about storage space, however, as storing your battery the proper way will help to maintain its efficiency and keep it in good working condition for longer.
If you do have the space available, it's definitely worth investing in a larger battery.
Our top pick is this Odyssey dual lead-acid and AGM battery for trolling motors systems.
Compared to an athlete, this 12V Odyssey battery performs well in both short sprints and long-distance running thanks to an impressive starting power and an incredible Deep Cycling capability of up to 400 cycles at 80% discharge depth.
It's much more powerful than standard marine batteries and the brand is committed to bringing you innovative products.
It has a number of useful features such as lead plates, an AGM design that prevents acid spills, a self-regulatory relief valve, and flame retardant containers.
It's on the slightly more expensive side, but when you consider all you're getting it's definitely worth it.
Pros
Odyssey is known for producing long-lasting batteries
Not too heavy to carry
Small and compact in size
Pure virgin lead plates
Multiple useful features
Higher power capacity and a 40% increase in reserve capacity
Cons
The next battery we looked at was this Universal Power Group rechargeable battery which comes backed by a 1-year warranty.
It's a little heavier than our top pick as it weighs 63.93lbs, but it's also a more affordable option.
You can mount the battery pretty much anywhere thanks to its versatile design and because it's shock and vibration resistant.
It's maintenance-free thanks to an SLA/AGM design and it eliminates the risk of acid spills.
This is a good option if you have a stricter budget, but there are a few customer reports of issues with the amperage output and how accurately the reality reflects the specifications.
Pros
Batteries fully charged and ready to go straight out of the box
It's a more affordable option
Variety of mounting choice
1-year warranty
Cons
Returns are at the customer's own expense
Reported issues of the battery not holding its charge as well as stated by the brand
Our third battery is from Mighty Max, and it's one of the best budget options we've included in our list.
The 12V battery is both toy and solar compatible, and it's also rechargeable for when your power is running low.
Maintenance and installation are both simple and there's no need for a wire harness or other mounting accessories.
It has a wide range of operating temperatures, a high discharge rate, a lengthy lifespan, and a deep discharge recovery mode.
If you experience any problems it also comes backed by a 30-day refund policy and a one-year manufacturer's warranty for your peace of mind.
Pros
The best budget option we could find
SLA and ADM design
Lightweight and easy to transport
Rechargeable
Can be mounted anywhere
Backed by a 30-day refund policy and a one-year manufacturer's warranty
Cons
Next up we have the Optima OPT8016-103 marine battery which features Deep Cycle and an impressive cranking amp capacity of 870 amperes.
You can rely on this battery to do its job come rain or shine as it's suitable for use even in bad weather.
Transporting the battery is an easy task due to its lighter weight of 43.5 amps and it's 15 times more resistant to vibrations and it can be mounted pretty much anywhere.
With a reserve capacity of 120 minutes, you can be sure that you'll make it back even if your battery is running low.
Pros
High reserve capacity
15 times more vibration-resistant
870 cranking amps
Lightweight and easily transportable
Can be used even in bad weather
Mount practically anywhere
Cons
Slightly more expensive
Some customers have reported issues with the batteries reaching full charge over time
Another option that's definitely worth your consideration is the sealed lead acid AGM battery from Interstate Batteries.
This Deep Cycle battery is compatible with a number of products including marine/trolling motors, RVs, electric scooters, and several other applications.
It's easy to recharge and it's recommended that you do this after use to maintain the lifespan of the battery.
It's one of the smaller batteries we've included with 35AH which makes it more affordable, but it's also available in 55AH and 75AH if you're looking for a longer run time.
Pros
AGM design means it requires less maintenance and it's spill-proof
Rechargeable
Suitable for multiple applications
Will fit in smaller motor systems
Rigorous testing with a 7-point quality protocol
One-year no-hassle warranty offered
Cons
Doesn't have the longest lifespan and requires regular charging
Next up we looked at this 12V 75AH Weize battery with Deep Cycle, which is compatible with trolling motor systems, wheelchairs, and Wayne ESP25 WSS30V backup sump pump.
It's another AGM battery so you don't have to worry about acid spills due to the sealed lead acid design.
Screws are included but it doesn't come with a wire harness or mounting essentials, and there's a 30-day warranty in which you can return the battery for a full refund.
Pros
12V 75AH ensures a longer run time of up to 8 hours
High-quality performance
Maintenance-free thanks to AGM design
30-day return policy where you can receive a refund
Cons
Doesn't include a wire harness or mounting essentials
If you're looking for an even higher power capacity battery then you might be interested in this 12V VMAX MR137-120 battery with an impressive 120AH.
It's a pretty heavy-duty option and it boasts a super long (although perhaps slightly ambitious) Float Service Life of up to 8 to 10 years, although this probably contributes to the higher cost as this is at the more expensive end of the price range.
The AGM Deep Cycle battery features no silica gels or any other contaminants and the tin alloys enhance the performance.
Pros
120 AH battery
Claims to run for 8 to 10 hours
Maintenance-free
High-efficiency
No silica gels or contaminants
Cons
Next up we have a 55AH flooded trolling motor battery which allows you to extend the battery's lifespan by topping it up with electrolytes.
However, Mighty Max does claim that the factory activated gel battery requires no maintenance so you don't have to worry if you forget to.
You can mount it anywhere because it's shock and vibration resistant so it won't come loose or become damaged, but it doesn't come with a wire harness or mounting accessories.
You're free to return the battery within 30 days and there's a full one-year warranty.
Pros
Mount it anywhere
Ready to use straight out of the box
High performance in high and low temperatures
55AH output
Cons
No wire harness or mounting accessories included
The penultimate option we have for you is another battery from Weize, this time a pure gel battery with Deep Cycle.
It has a high 100AH output and like most of the batteries we've looked at, it's rechargeable.
The gel lead-acid boosts recovery after deep discharge and has a longer lifespan than an AGM battery operating at temperatures of 25 degrees thanks to the heavy-duty lead calcium grids.
It has advanced safety features such as explosion-proof valves so there's no redundant gas. There's also a one-year warranty.
Pros
100AH
Rechargeable
Explosion-proof safety features
Longer lifespan
One-year warranty
Cons
Finally, the most expensive option on our list is the Renogy 12V gel battery with a huge 200AH output to match its hefty price tag.
It has excellent discharge performance thanks to the silver-plated copper terminal and it's maintenance-free with a less than 3% monthly self-discharge rate.
The advanced valve-regulated technology eliminates acid leakage and it's highly reliable so you don't have to worry about losing power when you need it.
If you have the money to spend on it, it's worth the investment.
Pros
Lower self-discharge rate than other flooded batteries
200AH output
Excellent discharge performance
No acid leakage
Cons
Mounting bolts not included
Frequently Asked Questions
How should I store my battery?
You don't want to find out when you've already left for a fishing trip, or worse when you're out on the water to realize that your battery is dead.
Storage is important as it will prevent the battery from going flat while it's not in use.
The best thing to do is to charge your battery to full capacity as soon as you get back so that it's ready and waiting for you the next time it's needed, then store it somewhere cool and dry, but not so cold that it will impact the battery's lifespan.
How long will an AGM battery typically last?
Proper maintenance, correctly charging your battery, and generally taking good care of your battery are all excellent and easy ways to extend the battery life, but there's no way to predict the exact lifespan of any battery due to the many variables that are involved.
Most batteries will state the expected battery lifespan somewhere on the packaging or in the product description where you'll find claims of anything from 10 years to a more modest prediction of 2 to 3 years.
Are deep cycle batteries the best option for trolling motors?
For those who anticipate a longer angling session or if you think you'll be on the water for a while, deep cycle batteries are an ideal choice because they deliver continuous, steady power over a gradual and therefore longer period.
Compared to a regular trolling motor battery, a deep cycle battery will usually run for about 4 hours for every 25 amps of battery power which will help you avoid a situation where you're stuck out on the water without enough power to get you back to land.
Is a lengthy battery warranty really essential?
When you're out on the water, it's important to have complete peace of mind when it comes to your boat equipment so you can fully enjoy the experience. You'll want to know that in the case of an emergency, you're covered, but how for long?
We're not suggesting that you should base your final decision on which battery to buy on the warranty length.
You'll find warranties that are a couple of months to 5 years in length, but there are also customer reviews to consider as this will tell you whether or not the battery will be reliable.
Even a short warranty is fine if the reviews suggest that the battery is of a good enough quality.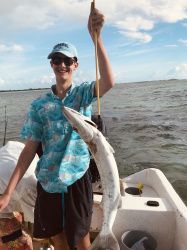 Latest posts by Andrew Marshall
(see all)