Mystery boxes are becoming increasingly popular purchases in today's society, and many branches are reaching out to offer mystery boxes that are in line with the other products that they sell.
The fishing industry is no exception to the rule, and the Catch Co store has produced their very own Mystery Tackle Box.
This is actually one of the most popular fishing-related mystery boxes that there is available on the market, and more and more people are flocking to purchase their own and see what is inside.
Of course, there are going to be lots of people that would be skeptical about buying such a product, when you have no idea what you are going to be purchasing.
So you can know whether or not this mystery box is a good buy, we are going to review the Mystery Tackle box in detail, so you can find out whether or not it really is going to be worth your money.
For this review, in particular, we are going to be looking at the Pro Bass Fishing Kit Mystery Box.
About Mystery Tackle Box
The Mystery Tackle Box is a subscription service that is offered by The Catch Co, and they offer a new and exciting service that is a great way for those with an interest in fishing to discover new products to help them along the way.
They offer a variety of subscription plans, ranging from beginner to expert, and will introduce you to new and fun ways to add to your overall fishing experience.
We will provide you with more information about their different subscription plans further on.
You will receive a monthly subscription box that will contain a wide variety of different fishing-based products from different brands.
You will be sent different products every month, so you can keep on discovering new things. This way, you can try out a variety of different products to find out what works best for you.
When it comes to signing up for this subscription, you are even able to select the type of species that you want your box to be tailored to.
There are different options for Bass, Walleye, Trout, Panfish, Catfish, Inshore Saltwater and there is even a seasonal Ice Fishing option. New options are being introduced all the time, so keep your eyes peeled for new releases.
How Does it Work?
One of the best things about the Mystery Tackle Box is that the website is super-easy to navigate and you can place your order without any hassle.
The first thing that you will need to do is browse through their available plans, and choose the one that you think is best suited for you.
There are also different tiers to look at like standard, professional, and even elite for those hardcore fishers.
Now that you have chosen your desired subscription, all that's left to do is to add it to the basket and check out.
The company will then work on shipping out your mystery box from their warehouse to your front door, and even better, this service is completely free of charge.
You won't have to pay a single penny for shipping, and your first box will ship within 10 days of you placing your order. However, this is a maximum wait time, and most orders are actually shipped out within 4 to 5 days.
Once your mystery box reaches your home address, you can get stuck in searching through all of the goodies that have been chosen for you by a team of experienced anglers.
Some of the products that you can expect in your box include baits from industry-leading brands and cutting edge innovators that are known to catch you more fish.
You will then continue to receive a mystery box every month unless you cancel your subscription. You can choose to pause or cancel your subscription under the preferences section of your account.
You are also guaranteed to never receive the same item twice, and each box will be completely different.
Subscription Service Prices
The price of your subscription will depend on the service that you have selected. The standard Mystery Tackle Box is just $19.99 a month, and the PRO Mystery Tackle Box is just $29.99 a month.
This company suggests that the majority of fishing enthusiasts will spend anywhere between $25 to $50 a month on fishing gear and supplies, so if you look at it that way, you will actually be saving money.
The shipping of these boxes is also completely free, and in the majority of the states, sales tax is not charged.
All of these boxes will even help you to save around 40% of the retail prices that you would have to pay if you were to purchase the items that come in the box separately.
This means that by subscribing to the Mystery Tackle Box subscription service, you will actually save money.
In terms of billing, the payment for these boxes will be taken on the first day of every month, which makes it easy to track when your payments will be going out.
Regular Subscription Plan
The regular subscription plan for the monthly Mystery Tackle Box is a great option for those at a beginner level of fishing.
You will receive around $25 worth of products for just $19.99, and you can also choose from a wide variety of fish species to further tailor your box.
You can change this species at any time, but the options that are available to you include:
Bass - Largemouth, smallmouth, and spotted bass
Inshore Saltwater - Redfish, speckled trout, snook, and flounder
Panfish and Trout - Crappie, perch, bluegill, rainbow trout, brown, brook, and cutthroat
Walleye - Walleye and sauger
Ice Fishing Box - These boxes are only available throughout the colder months, and they cease production in February
There are also four different payment plans that you can choose from. The standard £19.99 payment is the standard monthly payment, but you can also choose the three-month plan for $18.99 a month, the six-month plan for $17.99 a month, and the twelve-month plan for $16.99 a month.
For those who intend to have this subscription for at least a few months, this is a great way for you to save some extra money.
PRO Subscription Plan
The PRO subscription plan is more targeted towards those who are more knowledgeable about fishing, and who have been taking part in the hobby for a long while.
Those with a professional skill level would be more suited towards this box, and you would receive an impressive $40 worth of products for just $29.99 a month.
You will have all of the available fish species options as the previous standard subscription box, but you will also have the additional option to choose the Multi-species option.
This species includes bass, panfish, and catfish, and offers something slightly different from the previous box. You also get a higher value for money in terms of cost savings.
You can opt to pay for the monthly plan at $29.99 a month, the three-month plan at $28.99 a month, the six-month plan at £27.99 a month, or the twelve-month plan at $26.99 a month. This contributes to even more savings.
Elite Subscription Plan
The final subscription plan that is available on this website is the Elite subscription service, which will provide you with $60 worth of products for just $19.99 a month. This is an impressive saving of just over $20, which is hard to say no to.
You are limited to two choices of species, which are bass and multi-species, but the number of products that you will receive will certainly make up for this.
This box is designed for those with a huge passion for fishing, and those that are highly knowledgeable about the subject. If you class yourself as an elite fisher, then this box might be for you.
You can choose the standard subscription for $39.99 a month, the three-month subscription for $38.99 a month, the six-month subscription for $37.99 a month, or the twelve-month subscription for $36.99 a month.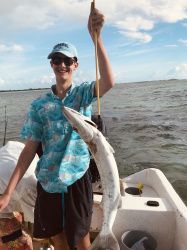 Latest posts by Andrew Marshall
(see all)