Nothing quite tops the feeling of being out on the water, paired with the satisfaction of catching your own dinner when you're fishing.
Finding the right spinning reel can be a challenge, especially with the copious amounts of choice on the fishing market. So how can you know which spinning reel is the best?
We've compiled a list of the top 10 best spinning reels along with a useful buyer's guide of factors to consider. We've also answered some frequently asked questions that you might have thought of.
Catching and landing fish will be easier than ever with your new spinning reel!
Take a look at our top pick below.
The Piscifun Flame Spinning Reels is lightweight and designed with a sleek matte black body paired with a red aluminum spool.
The Piscifun Flame spinning reel is light to 8.5oz, featuring a hollow graphite body and lightweight reel gears.
Anti-corrosion zinc drive gear. The precise mesh teeth on the drive gear give you powerful and consistent operation even when it comes to catching bigger fish.
Pros
Piscifun Flame fishing reels offer incredible drag power up to 19.8Lb.
9 quality ball bearings plus one roller bearing paired with precision gears engagement, you will enjoy the buttery smooth performance of this reel.
Easy to use!
Cons
A couple of customers noted that this reel was less smooth than they were expecting it to be.
The Cadence Spinning Reel is ultralight and built with a high concentration meta carbon main frame that is 53% lighter and 20% stronger than aluminum!
The Cadence spinning reel features 8+1 corrosion resistant stainless steel bearings with super low torque imported from Japan make spinning reel getting fast speed and casting remote.
This spinning reel's superior carbon drag system offers incredible stopping power up to 36LBs to help land the big fish you're hoping to catch, boasting a stainless steel main shaft and zinc alloy main pinion gear and a perfect precision machined pinion gear for fish fighting power.
Pros
The unique torsion control body design improved the reels' stability and means that it drags smoothly.
The high 6.2:1/5.2:1 gear ratio gives it an ultra-smooth performance every time. Fish without hassle!
3-year manufacturer's warranty and 90 days return policy for a 100% refund should you feel dissatisfied with your purchase!
Cons
A few customers reported that they had trouble with the ball bearings.
The RUNCL Spinning Reel Titan II is constructed of a full metal body with two-color anodized after polishing and precision-machined single-piece frames.
This spinning reel has 9+1 precise stainless steel shield bearings, stronger precision NCTM (No Clearance Transmission Mechanism) solid brass pinion gears.
The RUNCL spinning reel features a RUNCL entire shield system, offering exceptional protection for the main body, spool, and rotor, which helps to keep water, sand, and dirt out and helps to prevent rusting from occurring.
Pros
The sealed drag system comes with premium multi-disc carbon fiber washers for reliable stopping power.
The surface of the rotor component is protected by phosphating coating for enhanced wear resistance.
The sleek-edge delivers the line smoothly.
Cons
A few customers noted that this reel was smaller than they were expecting.
The Sougayilang Fishing Reel is a lightweight reel that features corrosion-resistant smooth ball bearings and an instant stop one-way anti-reverse bearing, offering ultra-smooth performance.
Sougayilang spinning reels are equipped with precision brass gears, hardened metal main shaft, triple-disc carbon drag washers, and interchangeable right or left CNC machined aluminum handle.
This reel has a hardened metal main shaft, perfect mesh drive gear and precision machined pinion gear for fish fighting power.
Pros
The hollow frame design and computer balancing system combined with a high performing and lightweight body for ease of use.
This spinning reel comes with an extra free spare spool for your convenience!
Great for sea fishing, ocean rock fishing, ocean beach fishing, and more!
Cons
One customer struggled with the handle becoming stiff to use on this particular spinning reel.
The Cadence CS10 Spinning Reel is made out of a durable magnesium frame, with its lightweight design made possible through using magnesium and carbon composite construction.
The braid ready aluminum spool houses a carbon fiber drag system that delivers even pressure.
This spinning reel features 10 ball bearings + 1 instant anti-reverse bearing, carbon composite rotor and side plate.
Pros
This spinning reel's premium materials, along with its availability in various sizes, make it a great all-purpose product to invest in.
The weight of this spinning reel is further enhanced with a carbon handle and ergonomic EVA knob.
This spinning reel is ideal for catching all types of gamefish, especially bass!
Cons
A couple of customers didn't like the drag on this Cadence spinning reel.
Best Spinning Reels Buying Guide
There are a few things to take into consideration when buying a spinning reel, but it mainly comes down to the spool size, material, and drag system.
A high-quality and strong reel is incredibly important when it comes to catching fish, particularly gamefish, so you want to make sure that you're investing in a reel that will stand the test of time and that can handle landing bigger fish!
You will often find that poorer quality reels have a less smooth drag and you might struggle, or even snap your reel dragging a fish in. As a result, you should do your research and make sure that you're happy with the quality of the reel before you purchase one. After all, no one wants their fishing trip to be ruined with a broken spinning reel!
Take a look at the features below before buying your spinning reel.
Spool Size
Something to take into account when purchasing a new spinning reel is the spool size.
The spool size of your spinning reel will determine how much line your reel has the capacity for. The total line capacity increases as you go up in spool size. Generally speaking, the manufacturer will provide you with the line spool capacity, so be sure to check the product description.
You should consider the type of fish you intend to catch when choosing a reel. If you're planning on fishing for smaller fish, generally speaking you will need a 500 to 1000 size reel.
A lot of brands also provide an extra spool for your convenience too, so look out for that when buying your spinning reel!
Drag System
Arguably one of the most important factors to consider is the drag system. A good quality drag system is essential, particularly when it comes to catching larger fish.
There are two different types of drag systems available on spinning reels: front and rear drag. Front-drag systems will typically feature multiple, large drag washers that offer increased durability and performance as opposed to rear-drag models. Rear-drag controls are easier to access (especially when it comes to landing fish) yet they don't stand up as well to large, hard fighting fish species.
Ideally speaking, you want the drag to engage smoothly on your hook set or when a fish makes a dive. A drag that sticks or jams can cause your line to suddenly break off from the shock if the fish is struggling to break free (any seasoned fisherman can tell you that there will be some struggles) so it's important to get it right.
You are likely to find that the quality of the drag system tends to correlate with the price you pay for the reel. In terms of the drag system, you nearly always get what you pay for, so be wary if a deal looks too good to be true - then it probably is!
A good way of knowing if the spinning reel's drag system is smooth is to check the product reviews. If anything is out of the ordinary, or if customers have picked up on anything fundamentally wrong with the product it is likely that they'll leave a product review telling you so.
Materials
Something you'll need to think about when purchasing a spinning reel is the type of material the frame is made out of.
Some of the most common materials used to make spinning reels are listed below.
Aluminum is a strong and durable material used to make spinning reels.
Plastic is a material commonly used to make spinning reels but generally won't provide you with the longevity that carbon or aluminium does.
Carbon is generally used as a higher end material and is generally more expensive to purchase, but what you invest in now you may save later as carbon is incredibly durable.
Magnesium is extremely lightweight yet strong material used for spinning reels, and can generally withstand a lot more than aluminium, titanium, and steel.
As with everything, there are pros and cons to all of these materials, so do your own research and weigh up your options before making a decision on which spinning reel material is best for you.
Bearings
You'll need to think about the bearings of a spinning reel. The bearings are what helps the spinning reel's handle and spool to spin smoothly together.
Generally speaking, you'll want to look for a spinning reel with a minimum of four essential bearings. Anything above that is really just extra frills and is definitely less essential.
If you're already a fisher it is likely that you'll know from experience the kind of spinning reel that you're looking for. However, as a general rule for beginners, four bearings is a good place to start.
Weight
The weight of a spinning reel is incredibly important as less strain is put on the wrist and forearm when you're fishing with a lighter reel.
This is even more important for those that spend a larger proportion of time out on the water, particularly when it comes to joint stress and for those times that you feel particularly fatigued.
The spinning reel should be helping you with a big catch, not weighing you down!
Anti-reverse
Something important to take into account is whether a spinning reel has an anti-reverse feature. Anti-reverse is a feature that is designed to prevent your spinning reel handle from unwinding unintentionally.
Generally speaking, some fishers prefer to fish without it, but it is a handy feature that you can turn on and off on a lot of spinning reel models and is particularly useful if you're just beginning to fish.
Having anti-reverse just means that you don't have to worry about it unwinding, so can be an excellent feature for beginners if you're worrying about landing the fish itself!
Experience Level
Something to consider when purchasing a spinning reel is whether or not it is suitable for beginners, or if it is catered more towards intermediate and advanced fishermen.
Although you might want to buy a spinning reel that you can grow with, there is little to no point in buying a reel that you won't be able to use straight off the bat.
You want to be able to get out there and start fishing, so make sure that you are buying a spinning reel that you can put to work right away!
Frequently Asked Questions
How do you choose a spinning reel?
How you choose a spinning reel will largely come down to your intended use of the reel.
Ask yourself: what kind of fishing are you going to be doing and what do you hope to catch with this spinning reel? From there you can decide on a size and other specifications that make up your perfect spinning reel.
Always ensure that you pick a reel that is suitable for your level of experience, and do plenty of research before you make a decision.
If in doubt, the product reviews are always handy to read as they are full of customer feedback that you wouldn't otherwise know - so take advantage of it.
What size reel do I need?
The size of the reel that you require will heavily depend on the type of fishing that you intend to be doing.
Choosing the right size reel is as easy as determining the size fishing line you intend to use most often. Generally speaking, the lighter the line you intend to use, the smaller the reel you should purchase.
You will also need to take into consideration how far you want to cast out and therefore, how much line you will need to have on your reel.
The line capacity of a spinning reel will determine the size that you need, so be sure to check the product description or manufacturer's website if in doubt when choosing the perfect size reel.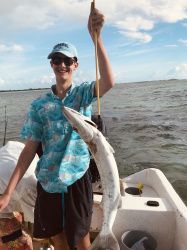 Latest posts by Andrew Marshall
(see all)