Looking to really improve your fishing experience? A fish finder is the way to do it.
These things can help you to find fish in all new territories without any trouble.
Of course, there are many fish finders that come with a battery as part of the purchase, but not all of them do.
If you need to get the best battery for your fish finder then not to worry - we've compiled a list of the 8 best batteries for fish finders.
With this list, you can spend more time fishing and less time scouring the web for the best product for you!
If you're in a hurry to find the best lead acid battery to use in your fish finder for a kayak, then look no further than the Expert Power EXP1270.
This is an impressive product that you can charge up to full capacity within four hours. We could say this is a good enough reason to invest in the product but wait - there's more.
The product is made with an incredibly durable construction, so you can expect it to last a substantial amount of time before you need to replace it.
In fact, it can deal with vibrations, heat shocks and so much more. What makes it especially spectacular is the fact that it's very lightweight and it's affordable too.
The battery has been UL and CE certified so you can be sure that your investment is a good one when you make your purchase.
It also has a fiberglass mat and this is capable of absorbing any acid. Its safe construction makes this a great choice for any fishing enthusiast.
Unfortunately the customer service isn't particularly impressive.
Pros
Easy to set up
Charges quickly
Affordable
Cons
Customer service isn't the best
The SLA Battery MAX 160 Fish Finder is a versatile offering - not only can you use it for your fish finder but it's also suitable for anything from a wheelchair to your home's alarm system.
But how will it aid you on your fishing endeavors? Let's dive in.
A 12V battery that comes with a rechargeable T1 terminal, this product will allow you to enjoy fishing for many hours without a hitch.
It's made out of absorbed glass mat technology and this means that you don't need to do much to keep it well maintained. It's very simple to use and it doesn't vibrate either.
If this wasn't enough, you would be happy to know that recharging the product can be done in no time at all.
It's made out of high quality materials too. It can be a little bit bulky, but this is a fairly minor issue in the grand scheme of things.
Pros
Maintenance free
Easy to use
High quality construction
Cons
The Power Sonic PS-1290 F2 is a very affordable yet versatile product that any fishing enthusiast is sure to enjoy.
Coming with a one year warranty you can even get additional peace of mind that this is the right choice for you. It requires very little maintenance too.
In addition to this the battery can be recharged and you can even mount it in a variety of different ways based on what you need.
The capacity of the product is pretty impressive and you can even expect a fantastic battery life to boot. If you want the power to go out then you can simply click on the cancel button.
The product has been IATA, CAB, FAA and DOT certified so you can be sure that it's safe to use.
It also comes with an ABS case and cover to give the product even more durability.
It is worth mentioning that some buyers have had some installation problems but this isn't a big problem.
Pros
One year warranty
Durable
Certified by major institutions
Cons
Some buyers have had some minor installation issues
If you would prefer to get an acid battery, it may be worth investing in the Mighty Max Battery CP1290. This battery requires little maintenance and it's corrosion free.
The battery is incredibly compact and lightweight, which means that moving it around and putting it on a kayak should be no problem at all.
It only weighs 24 pounds in total, no easy feat for a battery. The battery features sealed lead acid rechargeable operation, which means that it won't spill out sulfuric acid. Safe and convenient across the board.
The one real problem we need to point out about this product is that it doesn't already come with additional accessories like mounting and wire harnesses.
You will need to buy these separately, which certainly is not ideal.
Pros
High performance
Lightweight
Spill proof
Cons
Doesn't come with accessories
The last thing that you want when you're out fishing is to spend ages trying to set up your battery.
That's why the Chrome Battery 7AH Portable Fish Finder Battery is so good.
This is a versatile battery that can be used for a range of different things, so you will get plenty of use out of it.
The battery features absorbed glass mat technology, resulting in very little maintenance being needed on the battery.
When you first get the battery it is also already fully charged so you don't need to charge it before your first use.
The design is totally spill proof so you don't need to deal with any mess!
Perhaps the best thing about this battery is the battery life - it can last a whopping 16 hours on just one charge!
This is ideal for a long fishing session away from home. It's incredibly simple to use too.
Pros
Very portable
Easy to use
Comes with 1 year warranty
Cons
The packaging isn't very good
The Powersonic 12V 7AH Portable Fish Finder Battery is one of the best two pack batteries on the market.
This product even comes with a 1 year warranty for even more convenience.
The battery is spill free as it's made out of high quality materials, and it can last long enough to be suitable for even an especially long fishing session.
The battery performs admirably and can even cope with shocks and vibration easily.
If that wasn't enough then you will also be happy to know that the product is very affordable and durable.
It is worth noting that it is somewhat heavy, however.
Pros
Durable
Warranty
Resists shock and damage
Cons
If you're loooking for a powerful lithium battery, look no further than the Dakota Lothium 12V 10AH battery.
This battery is fairly lightweight, moreso than the vast majority of SLA batteries on the market. It can even last for at least 2000 charging cycles.
This is certainly a powerful battery that lasts longer than any other sealed lead acid battery out there.
It is especially suited to harsher environments such as out on a boat when you're going fishing.
You could even get as many as 3 days of fishing out of the product. Charging the battery takes no time at all either.
The product is pretty affordable considering what's on offer, though it is a little bit expensive.
Pros
Durable
Lasts a long time
Ideal for harsh environments
Cons
Somewhat expensive, though worth the money
Best Battery For Fish Finder Buying Guide
Types of Fish Finder Batteries
There are a range of different kinds of fish finder batteries on the market.
The first type of battery on offer is a Sealed Lead Acid battery, also known as an SLA.
These kinds of batteries are usually best suited for marine purposes or are used for deep cycle.
You can use them in pretty much any environment or situation, and they tend to be rather affordable.
They weigh quite a lot which can be a big downside, but they don't leak and they can come in a range of different sizes depending on what you need at the time.
The next type of battery is a Nickel Cadmium, or NiCD battery. These have a bunch of different benefits, including that they are lighter in weight and the current you can get from them is pretty impressive.
The problem is that it's not environmentally friendly - not ideal for people looking to improve their carbon footprint.
Finally you have the Nickel Metal Hydride or lithium battery. These have been on the market for a long time and they can do pretty much the same things as Nickel Cardium batteries but they weigh far less. You will need a particular charger for them, however.
Now, what exactly should you use? First of all it's important to mention that for the most part fishing enthusiasts tend to use SLA batteries, but as time goes on more people would rather use a lithium battery.
They usually tend to be more expensive but in turn they perform better and last longer.
It can be worth the investment if you don't want to replace your battery on a regular basis.
If you are on a budget, however, it may be worth investing in an SLA battery instead.
Size
Not everyone needs to worry about the size of the battery, though it is certainly worth mentioning.
Smaller batteries are usually recommended as they can give you greater power, though this is not always necessarily the case.
Voltage
If you get a battery with a higher voltage, you should usually expect it to last longer than a model with a lower voltage.
If you are going on a long fishing trip on a boat or if you are going to be fishing in poor weather conditions then you should be looking at a high voltage battery.
Charging Time
If you only go fishing every now and again then you may not be all that concerned with the charging time of your fish finder battery.
However, if you go fishing quite often then charging time is something that you need to consider, especially if it's your job.
If you use the battery a lot then you need to be thinking about getting a unit that can charge between 4-5 hours on full charge.
Battery Capacity
The great thing about fish finder batteries is that they don't cost an arm and a leg to buy, but you should still be looking for a product that can give you your money's worth.
Look for a unit that has fantastic battery life and capacity to save yourself any frustration later down the line.
Carrying Case
If you're planning on taking your battery out for especially long trips with you then you should really consider getting an option that comes with a carrying case.
This will make it much easier to transport. You should also make sure that both the product itself and the carrying case are waterproof to ensure that they don't get damaged when you're out on the water.
Frequently Asked Questions
How do I store a fish finder battery on my kayak?
When you're fishing out on the ocean you can expect a lot of water to make its way into your kayak from the sides.
With that in mind, you should try to keep the battery stored in a location where it's well protected and somewhere that is away from the water.
If you follow this guidance then you don't need to worry about water damaging your battery, which means that it will perform better and likely last longer too.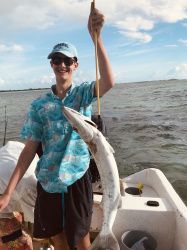 Latest posts by Andrew Marshall
(see all)