Investing in an onboard charger is more than just incredibly useful for charging your boat batteries; marine chargers themselves are also safer and more efficient than a standard model. The best models can also maintain said charge for next time!
Those with a more traditional fishing style might find navigating all of this technology difficult. That being said, even the savviest contemporary sailor can struggle to choose the best equipment, given there are so many options available.
Not to worry - we've done all of the research for you, and proudly present five of the best marine chargers for your perusal. Each one can be used aboard your boat, a convenience that will make life a lot easier!
If you'd like to know exactly what features make a good charger, consult the Buyer's Guide. Clear and concise, we present all of the relevant information for picking a good one, so you're familiar with the important qualities.
There's even a set of FAQs at the end - having fished out the most commonly asked questions amongst your fellow fishers, it's possible any lingering queries you might have will be cleared up with a quick glance.
Need To Choose A Charger ASAP? Here's Our Top Pick:
[amazon fields="B00F5EBR1C" value="thumb"]
[amazon fields="B07D1FS8FM" value="thumb"]
[amazon fields="B00F5EFKVK" value="thumb"]
[amazon fields="B00F5EBR1C" value="thumb" image_size="large"]
With over 35 years of experience in producing onboard boating chargers, we had to include ProMariner on our list. Their ProSport model provides automatic digital, multi-stage performance charging and conditioning with on demand technology.
Constructed of extruded aluminum, it's a compact, yet rugged design, with dual in-line DC safety fuses for the house battery banks and trolling motor. Additional safety features include, over voltage, overload and over temperature protection.
There are two individual banks, meaning you'll be able to charge multiple batteries at once, with their most advanced energy saving mode. Monitoring and maintaining batteries only when required, power reservation is maximized and costs reduced!
Advanced System OK and Battery Bank Trouble status indication lights eliminate troubleshooting by directly demonstrating whether any faults are present on each individual battery bank. Any necessary repair can be performed in no time!
In both long term and short term periods of storage, the ProSport automatically reconditions every battery on board at least once a month. Not only does this ensure peak performance, but actively increases their lifespan.
Pros:
On-demand charging technology - the most efficient process yet
Patented Energy Saver mode, actively improves battery life
Built-in quality and advanced safety features
2 year ProMariner Warranty as standard
Cons:
Quite expensive for a charger, but it's the best of the best!
[amazon fields="B07D1FS8FM" value="thumb" image_size="large"]
Another well recognized manufacturer of chargers is Guest, and their ChargePro four bank on board system is no exception to their expected high standard. For 12, 24, 36 and 48 volt systems, it's bound to be compatible with your boat batteries.
Offering dedicated charging, sensing and control for every single bank, the easy to read graphics clearly indicate the status of every charging port throughout the whole process. No need for ridiculously lengthy troubleshooting should problems arise!
Built from low profile, flangeless extruded aluminum housing, sealed by heavy duty gaskets, it's a one hundred percent waterproof performance certified according to IP67. This is a charger that's purpose-built for regular, high octane sailors.
Thanks to entirely high frequency, digital charging technology, there are microprocessors and software control to offer precision, totally automatic 5-stage performance charging. This far surpasses more traditional linear models!
Every single charger has been pre-wired for easy installation. Compatible with all 12-volt flooded and AGM lead acid batteries, this is not a charger for those running on gels! Failure to heed this warning could cause serious damage.
Pros:
Dependable extruded aluminum casing with heavy duty gaskets
Promises to be 100% waterproof
Utilizes five stage charging technology for the most efficient use of power
Status of all four battery banks clearly indicated for easy troubleshooting
Cons:
Hefty price tag compared to other options
Not compatible with gel batteries
[amazon fields="B00F5EFKVK" value="thumb" image_size="large"]
Equally as respected as its above competitors are Minn Kota, who offer one, two, three and four bank chargers through this listing. Each of their Precision On-Board Chargers is FCC Compliant and UL listed, meeting marine standard 1236.
With low-line voltage compensation, this charger delivers a fast, consistent charge, even if the outlets are overloaded or you need to utilize long extension cords. This ensures the voltage required is always being delivered, no matter what.
Multi-stage, automatic charging technology means the voltage and current every single battery receives can be controlled, no matter what stage of the charging cycle. You'll achieve a quick, safe charge, every time.
Compatible with 12, 24, 36 or 48 volt, flooded lead acid, AGM or Gel batteries, they can be used with a lot more models than competing chargers. Every bank can be customized to specify exactly which kind is connected, providing an optimum charge.
Totally waterproof, shock and vibration resistant, as well as being saltwater tested and fully corrosion safe, the Precision charger is perfect for use onboard a marine vehicle. The more banks it has, the greater the price, but it's absolutely worth it.
Pros:
Automatically performs battery equalization and low line voltage compensation
Available with one, two, three or four banks, depending on budget and preference
Fully FCC compliant and UL listed
LED status display for quick checks on charging progress for every battery
Cons:
Can get pretty expensive, the more banks you opt for
[amazon fields="B00MYT4LHS" value="thumb" image_size="large"]
Capable of charging flooded, AGM or gel batteries, using a microprocessor for the most accurate, efficient charge possible, Marinco's range of battery chargers have a universal 120/230V input. They offer total, go anywhere freedom!
Intuitively, automatically operated, their patented Sense-Send technology works to detect the power needs of every battery and power accordingly. Not only will you have full banks faster, but you'll save money achieving it, too!
Staying cool and running near-silently, it has two banks that are shock resistant, as well as ignition and polarity protected. With dual charging capabilities and quality safety features, it's certainly a model you can depend on.
Fans of the Guest 2611A charger, which has since been discontinued, should note that the Marinco ChargePro is a direct replacement. There's no need to change your configurations or drill new holes, as it will fit perfectly in the previous spot.
Smaller than average, with more weather durability than competing batteries, it's a little more expensive considering it can only charge two batteries at once. That said, it's still absolutely worth the price point, with a two year warranty for peace of mind.
Pros:
Sleek design and smaller footprint, which makes for easy installation
Smart SenseSend technology provides the power where it is needed
Exact replacement for the discontinued Guest 2611A charger
Compatible with AGM, flooded and gel batteries
Cons:
Only has two power banks, compared to other units with three or four
[amazon fields="B00MYTSEFI" value="thumb" image_size="large"]
Perfect for those seeking a bargain, the fully automatic 11900-4 on-board charger from Attwood is capable of reliably maintaining any 12 volt battery. It also happens to be the most affordable on our list, though it only charges one unit at a time.
By providing a 1.5 amp maintenance charge, this charger ensures your batteries will be fully charged, ensuring the boat is ready to start up at any time. Attwood have produced high-quality marine products for a century; they're a company to rely on.
Water resistant, with additional short circuit connection and reverse polarity protection, you'll have no trouble using it in a marine setting. Customer reviews suggest it has some of the best sealing in the business, for guaranteed safety.
Small enough to fit practically anywhere, it's incredibly easy to install on your boat. Unfortunately, though, this charger is only compatible with DC 12-Volt Lead Acid batteries, so those running gel or AGM setups will need to explore other options.
LED indicator lights clearly report the charging status of any battery connected, allowing you to see with just a quick glance whether there is room for more juice or if the process is complete. No more crossing your fingers and hoping for the best!
Pros:
Reliable 1.5 amp maintenance charge for 12-volt batteries
Water resistant with polarity and short-circuit protection
LED indicators to show charging status
Fully automatic and ideal for use on board a boat
Cons:
Works with a single battery only
Best Onboard Marine Battery Chargers Buying Guide
Unlike car batteries or a cellphone, you can't just pick up a random charger and assume it will be compatible.
Given that they're a lot more expensive than your average vehicle's source of power, you need to be picky when charging your boat.
Linear or Multi Stage?
The most commonly found marine battery chargers are either linear or utilize multi stage electronic switching, though the linear variety are being phased out gradually. This is because they've been found to slowly deteriorate batteries over time.
Many linear chargers conduct voltages that far exceed those required for batteries, which leads to overcharging. Eventually, this causes the electrolytes of lead acid batteries to boil dry, and is similarly as harmful to use with gel cell batteries.
Onboard chargers are normally multi stage, particularly those offered by manufacturers like Minn Kota and Guest. This means that they can more carefully care for your boat's batteries, pulling power only when it is needed.
It's actually pretty difficult to get a high quality linear charger these days, so sticking to multi-stage is your best bet. They're more expensive, but will get the job done far better, at less cost to you, and with less potential risk!
Features To Consider:
Safety
Number one on your priority list, but so often overlooked! Your charger must meet the guidelines established by the US Coast Guard regarding spark protection. Purposefully designed to prevent sparks, these are safe to mount below deck.
Bear in mind that not all marine chargers can be used with gel or AGM batteries - failure to adhere to this advice can cause irreversible damage. Be sure to triple check what kind of battery you have and which sort of charger you need as a result.
Securing a waterproof, shock resistant charger is also important to avoid being zapped should you set sail on a choppy or rainy day. This is less of a concern if your batteries (and thus the charger) are situated in a covered enclosure.
Likewise, those with protection from issues like reverse polarity and short-circuiting are even better, particularly if being used near water. The more precautions your charger takes, the safer your batteries (and you yourself!) will be.
Charging Speed
Unless you want to show up to the dock, only to be greeted by a failing engine, you want a high quality charger that replenishes your batteries in a timely manner. Overnight is usually sufficient, but most marine models are more efficient than that.
Recovery time is also important, by which we mean how fast your batteries are able to be fully recharged following total death. The very best marine chargers will be able to replenish them in as little as three hours, whilst others need at least twelve.
Some battery chargers are also designed for providing a "maintenance charge," meaning that, whilst not in use, the batteries will be kept in working order, unable to run down in your absence. Ideal for those who take longer breaks between trips!
Size and Weight
Perhaps one of the most important factors is the charger's size: it needs to comfortably mount close to your battery, and some should be covered from exposure to the elements, so think carefully about where it's going to go.
As a result, many onboard chargers are designed to be as compact and convenient as possible and lightweight enough that they can be hung or suspended as needed. The best models will have mounting holes pre drilled for your convenience.
When it comes to boating more generally, the less things weigh, the better. It may sound overdramatic, but even the slightest increase in total weight can increase your rate of fuel consumption. One to bear in mind!
Durability
Given onboard chargers are to be permanently installed onto your boat, you want them to have at least some weather-resistant qualities. Being able to withstand harsh conditions and more extreme temperatures can be a plus depending where you live.
No charger will declare itself 'waterproof' as that's just asking for a lawsuit when the manufacturer is proved otherwise! However, you can certainly find them marketed as water-resistant, and should make investing in one of those your priority.
A rugged casing made from solid, shockproof materials is equally as important, especially if you don't mind sailing on choppier waters. It's likely to get banged around a little, as you'll know from being a regular passenger on fishing boats.
Some chargers have been 'potted', which entails totally encapsulating the whole unit in thermal epoxy, as a means to defend it against corrosion, moisture and impacts. This can be particularly useful when charting a course across the open sea!
However, other manufacturers prefer sticking to a more accessible, open design, which allows for much easier servicing should there be an issue. It's up to you which side of caution you'd prefer to err on!
Number of Banks
Provided your charger has enough banks, every single 12 volt battery on your boat can be recharging at once. This point is pretty simple - count your batteries and buy a suitable charger!
You'll find, of course, that the more banks it features, the more expensive the battery is. You have to decide whether the convenience of faster, more efficient charging is worth the initial cash investment. Expensive chargers are usually safer, too.
Frequently Asked Questions
Can you overcharge a marine battery?
Yes - by failing to use a charger that adheres to manufacturer guidelines, it's possible to overcharge. This occurs most regularly when using a linear (rather than multi-stage) model, or pairing an AGM/gel battery with the wrong charger altogether.
Applying more voltage than is necessary will 'cook' a battery, rendering it unusable, so it's really important to check you've chosen an appropriate charger. Always check for recommendations from the relevant manufacturer.
What is the best way to charge a deep cycle marine battery?
So called for their ability to retain up to 80 percent of their stored energy for a particular length of time, deep cycle marine batteries issue power slowly, over longer periods as opposed to in swift powerful bursts like a normal charger.
As such, you need to refuel them according to a specific method, setting your charger to a "slow" or "trickle" charge at an appropriate voltage. Deep cycle models usually come at 6, 12, or 24 volts, so select accordingly.
They work most efficiently when the charge flow is at its lowest, so if you're able to set the voltage especially for charging, turn it down. It is recommended to stay within 20% of the battery's rated amp per hour, which is clearly visible on the top or its side.
How do I know if my marine battery is bad?
There are several ways to check if there's a problem with your battery. First, perform a visual inspection, looking in particular for any leaking, discoloration, a crack or rupture, bumps or bulges, and damage to the positive or negative terminals.
Such damages render the battery unusable, as they render the risk of leaking acid, short circuiting, burning, melting, or even explosion. It's better to be safe than sorry - if you're worried about wasting your money, consult an expert opinion first.
By taking a voltage reading, you'll be able to determine a battery's current charge level. A measurement of 12.7-13.2 indicates 100% charge, whilst 12.4 suggests 75%, 12.2 means 50%, 12.0 is 25% and anything less is totally discharged.
A reading of zero volts suggests a short circuit; when your battery can't get past 10.5 volts after a charge, then it's likely there's a dead cell. If you know for a fact it is fully charged, but there's still a reading of 12.4 or less, your battery has sulfated.
As your battery discharges, if it sits uncharged and drained for a long period of time, sulfate crystals will begin to form, set and harden onto the plates of the terminals, meaning the battery can never reach full charge again.
If you pay a visit to an auto shop in your area, chances are they'll be able to perform a load test on your battery - unless you or a helpful friend/family member/neighbor has a digital voltmeter with which you can conduct the procedure at home.
This will measure the voltage outputs of your battery over a given period of time, determining whether there's an issue with the battery itself or your problem lies with the charger, wiring or another extraneous issue.
Any potential issues with batteries should be taken very seriously. Failure to dispose of faulty equipment in a timely manner could result in injury to yourself and others, as well as cause significant or permanent damage to your boat. Don't risk it!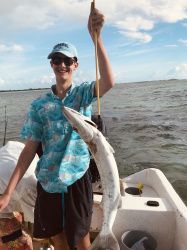 Latest posts by Andrew Marshall
(see all)