Having the right eye protection when you're fishing is essential for protecting your eyes from harmful UV rays, however, polarized sunglasses can also act as a vital tool for sight fishing.
The glare from the sun reflects off the water and obscures your view, so polarized lenses block out this glare and allow you to see more clearly through the water's surface.
Sunglasses are also essential for providing protection. A good pair of UV400, polarized sunglasses will keep your eyes safe and will also reduce eye strain.
There's an overwhelming amount of choice out there, so we've put together a list of the best polarized fishing sunglasses on the market.
We'll be breaking down everything you need to know before you purchase, from how much to spend, to the best materials to choose.
First up though, let's take a look at how polarized sunglasses work:
The Science Behind the Lens
Polarized sunglasses have a special chemical applied to their lenses during the manufacturing process. This chemical is laminated in a vertical pattern and is known as a vertical transmission filter.
This filter works by allowing vertical light waves (direct light) to be transmitted while blocking horizontally oriented waves (reflected light).
The reflected light waves are what fishermen call glare, and glare happens when waves of light bounce off reflective surfaces, such as a lake, which makes it difficult to see.
When wearing polarized sunglasses, images may appear slightly darker, however, once the glare is eliminated, the resulting image will be sharper and easier to see, which reduces eye strain and fatigue.
The ratings of these KastKing Skidaway sunglasses speak for themselves. They're equipped with a Grilamid® frame which is designed to be resilient and comfortable with combined flexibility and durability.
The 1.0mm thick polarized lens look and feel far more expensive than they are, and the scratch-resistant coating provides added protection from daily wear and tear.
Ergonomic nose pads and the wrap-around design ensure all-day comfort, while the UV400 lenses ensure up to 100% of harmful UVA and UVB rays are blocked.
These sunglasses from KastKing provide a secure, comfortable fit and appear far more expensive than they are. They also have a saltwater protective coating so your mirrored lenses won't get scratched or damaged if they are exposed to saltwater.
Pros
Lightweight, resilient Grilamid® frame
1.0mm thick polarized lenses
Scratch-resistant coating
Ergonomic nose pads and wrap-around design for comfort
100% of harmful UVA and UVB rays are blocked
Durable pin hinges
Saltwater resistant
Protective case and microfiber cleaning pouch included
Cons
Some users found the lens coating came off after a short time
These polarized fishing sunglasses from Fishoholic provide a great bang for your buck.
They've got a FlexTuff Composite frame that provides durable flexibility and feature mirror-coated polarized lenses that have been designed to allow you to easily see through the glare on the water's surface.
These sunglasses are lightweight enough for all-day wear and allow you to see clearly in a range of light settings.
They've also got wide sides to reduce side glare, have UV400 protection, and come with a handy hard case and lens cleaning pouch, making them great value for money.
Pros
FlexTuff Composite frame
Easily see through the glare of the water
UV400 protection
Lightweight for all-day wear
Good in all light settings
Wide sides to reduce side glare
Free hard case and lens cleaning pouch
Cons
Not suitable for saltwater fishing as the salt will affect the lens
These Native Kodiak sunglasses provide high-quality polarization efficiency, protecting you from all harmful rays, from ultraviolet to infrared.
The high-definition, color-enhancing filtration strategically filters out light that creates vision and color distortion and increases the vibrancy and sharpness of images.
These sunglasses are crafted to Native's high standards, and the lenses are constructed from lightweight polycarbonate that's shatter-resistant and offers protection from airborne debris.
All Native lenses come with scratch-resistant and hydrophobic coatings which help protect against unpredictable impact and minimize the effects of perspiration and condensation.
The Rhyno-Tuff air frames are made from a high-performance thermoplastic material that provides lightweight durability that can withstand high-velocity collisions and temperature extremes.
Pros
Protects from all harmful rays
More vibrant and sharper images
Lightweight polycarbonate lenses are shatter and scratch-resistant
Rhyno-Tuff air frames provide lightweight durability
Interchangeable lenses
Cushinol temple tips and nose pads for ultimate comfort
Cons
A little on the expensive side
The Fantail is a slightly smaller version than the Blackfin, so they're perfect if you love the clarity and protection offered by the Blackfin but found them slightly too wide for your face.
These offer the same benefits: blocking out 100% of glare and crafted with high quality 580 polycarbonate for extreme clarity and protection in all kinds of conditions and waters.
With Costa you're guaranteed quality, performance, and comfort. The Bio-based nylon frames of the Fantail and Blackfin offer toughness and durability, while all-day comfort is ensured by the ergonomic design and insert-molded rubber grips for a secure fit.
Pros
A slightly smaller alternative to the Blackfin
Blocks out 100% of glare
Bio-based nylon frame is both tough and durable
Ergonomic design with insert-molded rubber grips
Built by hand and backed for life
High quality 580 Polycarbonate for extreme clarity and protection
Designed especially for fishing
Safe for saltwater fishing
Cons
The Oakley Gascan sunglasses have two lenses that are hand-crafted from the curve of a single lens shield, then mounted in the frame to maintain the original, continuous contour.
This method offers an unparalleled peripheral field of vision and Oakley's famous Plutonite lenses that block 100% of all UVA, UVB, UVC, and harmful blue light up to 400mm.
The Gascan's lightweight O Matter frame offers premium, all-day comfort while the three-point fit system ensures the lenses are in precise optical alignment to avoid the pressure points common in sunglasses that wrap around the ears.
The Gascan comes in an extensive range of colors and lens options and is available in a choice of four lens widths.
Pros
100% of all UVA, UVB, UVC, and harmful blue light up to 400mm
Made in the USA - premium quality
Crafted from a single lens shield
Lightweight frame for all-day comfort
The three-point fit system eliminates pressure points
Extensive range of colors and sizes to choose from
Cons
The plastic frame may be less durable than other options
These polarized sunglasses from Faguma are a great budget option if you don't want to break the bank.
The Composite-UV400 lens with scratch-resistant coating offers 100% UV protection and eliminates glare and scattered light for a sharper, clearer, HD-standard image.
These lightweight sunglasses have an ergonomic design to ensure all-day comfort, with skin-friendly silicone nose pads and skidproof arms that provide improved grip with just the right amount of flex.
Faguma offers an extensive range of color combinations and each pair comes with a handy glasses case, pocket, cloth, and retainer strap, making this purchase a great bang for your buck.
Pros
Scratch-resistant composite-UV400 lens
100% UV protection
Clear, HD image thanks to polarized lens
Lightweight, flexible frames
skin-friendly silicone nose pads and skidproof arms
Range of color combinations
Cons
Some users found the fit to be on the small size
The Flying Fisherman is a good option if you want to combine affordability with performance.
The Buchanan lens has a scratch-resistant coating for added durability and an AcuTint polarized lens system which provides 100% protection from harmful UVA and UVB rays while also enhancing color contrast for a more vibrant image.
With the Buchanan, you can minimize glare, enhance clarity and depth perception, and reduce eye strain for all-day comfort.
With a crystal gunmetal frame not only are these lightweight and ergonomic, but they also look great. The Buchanan also comes in a range of frame and lens color combinations, and they're so cheap you could even justify buying several pairs.
Pros
Polarized lenses with scratch-resistant coating
AcuTint polarized lens system for enhanced image
Lightweight and durable
100% UVA and UVB protection
Eliminate glare and reduce eye fatigue
Limited One Year Warranty
Range of colors to choose from
Cons
The arms aren't the most comfortable and can rub the ears slightly
These sunglasses from Filthy Anglers are a good middle price point option, combining high-quality materials with affordability.
Lenses are polarized to provide users with enhanced vision through the elimination of unwanted and harmful glare and provide optically correct vision with no light distortion. This allows you to spot fish clearly beneath the water's surface.
The wrap-around style of the Balsam provides all-round protection from harmful UV rays and has also been ergonomically designed with rubber nosepiece and temples for all-day wearability.
They've also been designed to be super durable, featuring a hydrophobic coating that is scratch resistant and repels water, oil, and sweat, allowing you to maintain pristine vision.
Lenses are made from polycarbonate and are shatter-proof to protect your eyes from any potential danger or debris.
Pros
High-quality polycarbonate polarized lenses offer superb clarity
Eliminates glare without distorting vision
Wrap around style for all-round protection
100% protection from harmful UV rays
Hydrophobic coating for scratch resistance and repelling water, oil, and sweat
Shatter-proof lenses
Ergonomic design with rubber nosepiece and temples
Cons
Some users wished these were slightly more polarized to reduce glare in extremely bright situations
These Motelan sunglasses offer some of the cheapest polarized lenses on the market but are also some of the highest-rated.
They have an ultralight TR90 frame that's lightweight and durable enough for fishing and other outdoor activities, and a rubber nose pad for all-day comfort.
The Polarized UV400 Lenses offer HD-quality images for enhanced clarity and are coated for added scratch resistance and protection from daily wear and tear.
The camouflage frame on these is perfect for fishing and hunting, and you can choose from a range of colored lenses to best suit your fishing locations.
Pros
Ultralight TR90 frame
Polarized UV400 Lenses
Scratch-Resistant Coating
Provides HD clarity
Rubber nose pad for all-day comfort
Camouflage patterned frame is perfect for hunting and fishing
Range of colored lenses to choose from
Cons
Plastic lenses are slightly less durable and reliable
Best Polarized Fishing Sunglasses Buying Guide
Which Lens Color to Go For
You may have noticed that polarized lenses come in a range of colors, and the different colors are designed to work optimally in different fishing conditions.
Amber/Brown/Copper - these tones are best suited to low-light conditions, such as early morning and evening, or cloudy weather. These colors allow a little more light in, which provides more illumination when less light is available. Amber is a great choice for all-around fishing conditions.
Green/ Green Mirror – Green and green mirror are the best lens colors for freshwater fishing as they have an amber/copper base that allows you to see clearly in water that is slightly stained or murky.
Yellow – Yellow provides a high contrast, and because of this many sight fishermen use yellow to help them distinguish between a fish bed and the rest of the lake bottom. Yellow lenses are therefore great for shallow fishing, as they enable you to spot the irregularities in the grass.
Blue/ Blue Mirror – Blue and Blue Mirror are best for offshore fishing. These colors have a gray base lens that helps filter out harsh direct sunlight in open water fishing where you're very exposed.
Gray/Smoke – These colors are best for very bright conditions, as they reduce light transmission. Unlike brighter colors, these won't distort the natural colors as much as other lens colors so they're good for maintaining optimal vision. This makes them a popular choice outside of fishing, or among anglers living in regions with lots of sunlight.
UV Protection
Electromagnetic radiation is solar energy that is emitted by the sun. There are seven types of energy in the electromagnetic spectrum: Gamma Rays; X-rays; Ultraviolet light (UV rays); Visible light; Infrared light; Microwaves and Radiowaves.
These different types of energy have different purposes: for example, visible light allows us to see the world, and infrared radiation enables us to feel the warmth of the sun on our skin.
There are some positives to the sun's UV rays: for example, we get vitamin D from sunlight and this has been linked to improved mood.
However, there are also significant harmful effects of overexposure. Researchers have found that 65% of melanomas are caused by UV radiation exposure - further reinforcing the importance of protecting your skin and eyes from the sun.
It's important to recognize that polarized lenses block glare, but they don't always fully protect you from the sun's harmful UV rays. This is why it's important to look for a pair of sunglasses that are polarized and offer 100% UV protection.
The higher the UV rating, the better the protection. Look for a pair of sunglasses that are polarized and labeled UV 400, as this provides nearly 100% protection from harmful ultraviolet light rays.
Lenses with UV 400 block wavelengths up to 400 nanometers and they also filter out 75% to 90% of visible light from the sun, which is strong enough to penetrate the Earth's atmosphere and reaches your skin and eyes in the form of UVA and UVB rays.
Lens Materials
The material your lenses are made out of can impact everything from quality to durability, to weight and cost.
Glass offers crystal - clear images and has superior optical clarity. It's also best for scratch-resistance. However, the drawbacks of glass include the heavier weight of the material and the fact that glass lenses are usually significantly more expensive. Glass won't chip or shatter, but it will "spider."
Polyurethane is another material that usually comes at a higher cost. However, it's worth the investment as it provides superior impact-resistance while maintaining optical clarity. It's also flexible and lighter than glass.
Polycarbonate is the material you're likely to see a lot of. Polycarbonate lenses are durable and provide excellent impact-resistance. They also enhance optical clarity and have good scratch-resistance. The key selling points of polycarbonate is that it's lightweight, durable, and affordable.
Acrylic is even cheaper than polycarbonate, so it's best suited for casual or occasional use. It's lightweight and affordable but is generally less durable and optically clear than polycarbonate or glass, so you can usually expect some image distortion.
Lens Coatings
Expensive lenses will have several layers of coating to make them more durable which means they last far longer than cheaper lenses.
Popular lens coatings include a hydrophobic coating that repels water, an anti-scratch coating to protect against wear and tear, and an anti-fog coating that protects against sweat and keeps the lens clear in humid conditions.
Lenses that are mirrored or have a flash coating have a reflective film applied to the outside surfaces of the lens, this reduces glare by reflecting most of the light that hits the lens surface.
It's worth bearing in mind that mirrored coatings can create darker images, so they're usually used with lighter tints which compensate for this.
Frame Materials
The frame is the second most important part of your sunglasses, and the material you select will impact the fit, feel, and durability of your sunglasses.
Metal frames include those made from stainless steel, aluminum, and titanium. These are usually thinner, which makes them easy to adjust to your face and less obtrusive to your field of vision.
That said, they're also more expensive and can be less durable than other types, so they're better suited to occasional or casual wear rather than high-impact activities. It's also worth remembering that metal heats up easily and can get hot.
Nylon frames are usually cheap, lightweight, and tend to be more durable than metal. Thanks to its durability, it can be well suited to sports or high-impact activities. One drawback of nylon frames is that they're generally not adjustable.
Acetate frames are sometimes called "handmades." These consist of variations of plastic and are popular in fashion styles because they allow for more color varieties. That said, they are also less flexible and forgiving, so you'll want to avoid them for fishing or other sports.
Ergonomics
You want to ensure your sunglasses are as comfortable as possible, particularly if you intend to wear them for long periods.
Pay particular attention to the design of the sunglasses and how they fit around the head, for example, do they have any silicone padding on the nose piece and temples?
It's also important to get a good fit, as this affects how comfortable a pair of sunglasses feel. We'll explain how to get the best fit possible below.
How to Get a Good Fit
Frames should fit snugly on your nose and ears, but not pinch or rub at all.
The weight should feel evenly distributed between the ears and nose, which is why lightweight sunglasses are always preferable, and you should always avoid styles that add pressure on these contact points, as this can cause headaches.
Your eyelashes should not touch the lens.
Some nosepieces are adjustable by pinching them closer together or farther apart.
When shopping online, pay attention to any fit guidance from the manufacturer, as some sunglasses may provide a normal fit whereas others will run smaller or larger than usual. Some brands may offer multiple sizes.
Check the warranty or return period when shopping online in case your sunglasses don't fit correctly.
Price
When it comes to polarized sunglasses, the amount of choice on the market can be perceived as both a positive and a negative, as there's a pair of sunglasses for every budget, however, this means that making a decision can be a little overwhelming.
As you can see from our list, polarized fishing sunglasses are available for as low as $15 or as high as hundreds of dollars, and how much you should spend depends on your budget, but also on how frequently you'll use them.
Cheaper sunglasses are less of an investment, meaning you can afford to try them out or buy multiple pairs with different color lenses. The drawback is that they're less likely to be durable - they'll probably scratch easily and may not be suitable for use in certain situations. For example, some cheap sunglasses will get damaged if they come into contact with salt water.
On the other hand, investing in a pricier pair of sunglasses can be risky because there's more to lose. However, they may save you money in the long run as a high-quality pair of sunglasses could outlive several cheap pairs that you're constantly replacing.
Therefore, if you fish regularly then you may be better off investing in a more expensive pair of sunglasses that are durable and well-made.
Frequently Asked Questions
Is it worth buying polarized sunglasses?
Yes. There are a whole host of benefits. Polarized fishing sunglasses will allow you to see more clearly below the surface of the water, as they reduce the glare which bounces off the surface of the water and blocks your view.
Your newly-enhanced vision will become your greatest tool: you'll be able to see rocks, vegetation, and if you're lucky, fish.
Polarized sunglasses are especially important for sight fishing, however, they're also beneficial for pretty much any fishing situation, as being able to see what's below the surface of the water is always going to give the angler an advantage.
They also reduce eye strain, meaning your eyes are less likely to become fatigued during a long day on the water. By reducing the sun's glare, polarized lenses allow your eyes to relax more, as they won't have to work as hard.
The amount of squinting required is cut down as it becomes easier to see objects in the water.
Do any polarized sunglasses work for fishing?
Sure, any pair of polarized sunglasses are going to be better than nothing, but you'll feel the benefits of polarized sunglasses more if you choose the right lens color for the type of conditions you're fishing in.
For example, amber or brown tones are best for low-light situations and cloudy conditions, green is best for freshwater fishing, yellow lenses work best for shallow fishing, blue is best for offshore fishing and gray or smoke are best for very bright situations.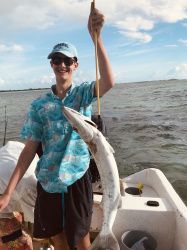 Latest posts by Andrew Marshall
(see all)