Whatever and wherever you are fishing, there is a rod for you. There are several styles from sea to fly fishing and having the right rod that is up to the challenge is critical.
Traditional fishing rods have always been challenging to transport with some measuring up to 15 feet. These are superb pieces of equipment for catching fish but can be a hassle in the car or walking through wooded areas.
To tackle this inconvenience, you could choose a fishing rod that will fit securely into a compact box.
Telescopic fishing rods will be the solution to your angling woes. These collapsible rods use fitted segments (blanks) instead of one long piece of fiberglass, bamboo, graphite, or carbon fiber.
These have the main advantage of being portable. Today, many anglers bring telescopic fishing rods as secondary lines to their traditional rods.
Although first introduced as plastic children's gear, telescopic rods have grown in popularity with several manufacturers producing top-quality models.
We have compiled a list of the top 4 telescopic fishing rods for you to consider followed by a helpful buyer's guide and FAQs section.
We got you hooked yet? Let's reel in our top pick below.
Best Telescopic Fishing Rod - Portable Fishing Rod Buying Guide
Before you go ahead and buy your new telescopic rod, there are a few things you should consider.
Take a look at some key factors to find out what makes a good-quality telescopic rod.
Power
As with traditional one-piece fishing rods, telescopic rods are also rated by their power or weight. The strength of the rod during use is estimated and this is found by noting the first blank past the reel seat.
If you plan on fishing for smaller fish in lakes or streams, a telescoping rod with less power is recommended than those in deep saltwater fishing. Look for a rod's listing on a scale from 'ultra-light' to 'heavy'.
Portability
One of the chief advantages of using telescoping fishing rods is their portability. You should consider the length of a rod when it is collapsed so that it can be stored and transported easily.
The best telescoping rods collapse to a fraction of their size at one or two feet.
Action
An important consideration is a telescoping rod's action or sometimes referred to as its flex rate. Its action is the speed it can return to its original position once a fish has been hooked.
Unlike traditional carbon fiber rods, telescoping rods have a moderate or slow action. The speed of your rod can affect the rate at which your hook can be set after you get a good bite.
Material
Telescopic rods are primarily made from either fiberglass or graphite (carbon). These can sometimes be combined. Each is equally reliable and it usually comes down to personal preference.
Some rods are made from cheap aluminum or thin steel but these are prone to bending so it is recommended you ignore these types.
Graphite rods are typically lighter, more sensitive, and are more flexible. These are considered best with soft bait and for fish such as bluegill as their bite can be very light.
Fiberglass tends to be more durable and heavier. It is generally considered these types are better suited for larger fish types such as pike.
Frequently Asked Questions
What are the benefits and cons of using a telescoping fishing rod?
As we have mentioned, telescoping rods are wonderfully portable.
Their collapsible nature makes them easy to transport on foot as well as in cars, planes, and buses. They are also easy to store. Simply keep it in a tackle box or small space for convenient safekeeping.
One con is how these rods are limited to slow and moderate actions so you won't get much flexibility for fishing larger fish. Their range is also much smaller compared to traditional rods but the market is starting to see a wider variety to choose from.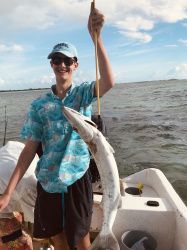 Latest posts by Andrew Marshall
(see all)