Whether you are starting to fish or have been fishing for years, the fishing line is highly important as this can determine how successful you will be on your fishing ventures.
With so many different kinds of fishing lines on the market right now, sometimes it's best to go for one of the oldest and traditional when it comes to fishing.
Braided fishing lines have been one of the earliest kinds and were traditionally made from cottons and linen whereas now they are usually made from sturdier materials.
Boasting an array of advantages including high strength and no stretch, they are also one of the thinnest lines thanks to the tight diameter and strong power.
There are many reasons why fishers go to the braided fishing line again and again. Durable and reliable, this is definitely a line you need to try at least once in your fishing career.
With this in mind, we have done all the research into braided fishing lines so you don't have to look any further.
In this article, we list the top 6 braided fishing lines on the market followed by a Buyers Guide that tells you everything you need to know when researching which braided fishing line is best for you.
We will then conclude our guide with an FAQ that answers the most common questions asked. By the end of this guide, you'll know everything that there is to know about braided fishing lines and know what to look out for as well as which one you want to go for.
Don't have time to read the full article? Read our top pick here: Power Pro Spectra Fiber Braided Fishing Line
The best braided fishing line on the market is from Power Pro and is their Spectra Fiber Braided Fishing Line.
Made from Spectra Fibers, this fishing line is extremely sturdy and resistant to any water or memory damage.
The line itself is round and sensitive, meaning that you will easily feel any tugs from the fish. It also is incredibly smooth and allows for better grip and control every time.
What makes this our winner? This is an extremely strong line for its diameter and has a long casting distance which is ideal for those who like to fish in larger spaces.
Great for beginners and avid fishers, this is a fishing line that will not let you down and you'll be using time and time again.
Our top pick is Power Pro's Spectra Fiber Braided Fishing Line and it is our first recommendation for a reason.
Incredibly sturdy and strong yet smooth and sensitive, this fishing line has been designed for most bodies of water.
With a maximum weight of 50lbs, you can be assured that this line will not succumb to any damage.
This line is made to bring you successful fishing trips every time and you'll be remiss not to give this a try at some point in your fishing career.
With a wide choice of colors and weights to choose from, you can be assured that Power Pro's Braided Fishing Line can be suited for any kind of water in any condition with the weight that you prefer.
Its smaller diameter means that you can cast a long line without being worried that the fish will notice as well as its easy use that puts it ahead of the competition.
With 4.7 stars from over 6,400 reviews, this is the fishing line to purchase if you are wanting to try braided fishing lines for the first time or are wanting to upgrade to a stronger and smoother line.
Made with enhanced body technology, this line has been designed with sleekness in mind to ensure that the line maintains its strength whilst also remaining resistant to any water or memory damage.
Pros
Made with enhanced body technology to maintain its strength
Variety of colors available for any type of water in any condition
Resistant to water and memory damage
Cons
Our second pick is from KastKing and is their SuperPower Braided Fishing Line. One of the strongest lines on our list, this line is made from sturdy fibers that are easy to knot and cast.
They have greater abrasion resistance which means that you can fish for a bigger catch and not worry about it getting away.
The zero stretch and ultra-high sensitivity means that you won't be losing any fish that may be tugging away at the line.
This line also boasts a smaller diameter meaning you can get more of the line onto your spool which is great for those who wish to go fishing for longer periods of time.
With 4.5 stars from over 13,400 reviews, this line is a fantastic choice for beginners and experts and is suitable for any kind of water.
Whatever the weather condition, you can be assured of the durability and reliability that comes with the line.
The double knit material is an extra layering on the strand that assures its resistance against any water or memory damage.
Sold at a brilliant price point, this product is suitable for fishers of any ability and is incredibly easy to hook up and go.
Pros
Double knit fiber is easy to knot and cast
Greater abrasion resistance prevents any water or memory damage
Smaller diameter means you can get more line on your spool for longer trips
Cons
The line does fade after some use
Our third pick is from Reaction Tackle and is the best for those on a tighter budget without compromising quality.
The super thin diameter is sensitive yet still retains its strength as well as an array of color choice so you can pick what color you think is right depending on what kind of water you are fishing in.
Reaction Tackle allows you to choose the weight so you can either top up with a smaller replenish or make a bulk purchase.
With 4.5 stars from over 5,600 reviews, this is one of the strongest lines on our list thanks to the strong polyethylene material that is resistant to any water damage or breakage.
It can be knotted very tightly to assure less stretch and you can choose what color to suit your own preference to ensure that you are having a successful trip whether you are a budding fisher or a more experienced fisher.
Pros
Choose the weight and color depending on the water and personal preference
Polyethylene material is resistant to water damage and breakage
Minimal stretch with long lasting strength
Cons
Can take some time to get used to hooking it on the rod
Our fourth recommendation is from Piscifun and is this beautiful dark green braided fishing line.
Durable and abrasion resistant, this fishing line is made with new epoxy coating technology to ensure the braided line stays intact and prevents any damage.
With strong knot strength, the strong fiber material means that you can tighten the line as much as you want to ensure that the fish won't escape.
Choosing from 4 or 8 strands, you can adjust the fishing trip to suit your personal preferences without compromising the quality of the line.
With 4.4 stars from over 3,500 reviews, Piscifun have made sure that their product is catered to your needs and preferences.
With choices of weight as well as 4 strand or 8 strand options available, you can be assured of a smaller diameter with long lasting strength and minimal stretch.
With a longer cast, you can further the distance that you fish as well and help the bait to reach the fish faster.
A great choice for those on a budget who are wanting high quality with compromising their budget.
Pros
Made with new epoxy coating technology
Choose from 4 or 8 strand lines to suit your personal preference
Smaller diameter has long lasting strength and minimal stretch
Cons
The line can be a bit sticky
The last recommendation on our list is the Braided Fishing Line from RUNCL. This 8 strand line is made from premium raw materials, making them more durable than most braided fishing lines on the market.
It also boasts incredible knot strength thanks to the 8 strand which helps to provide more resistance meaning that there is less chance of water or memory damage.
Perfect for those who are looking for a fishing line that provides extra sensitivity and no stretch, RUNCL have ensured that their fishing line is among the best on the market.
With 4.4 stars from over 2,100 reviews, this fishing line is great to use in dirtier waters thanks to its multicolored scheme.
The strong 8 strand braid provides that durability that you need to ensure a successful fishing tripping.
With its small diameter, it is incredibly easy to pass through the rod guide and the thinness of the line allows you to wind more of the fishing line onto the spool meaning you can take longer fishing trips without worrying about the supply.
Pros
8 strand line for extra durability
High resistance reduces chance of water and memory damage
Small diameter means you can wind more line onto the spool
Cons
Not ideal for clear waters as the line will be visible
Best Braided Fishing Line (Baitcasting & Spinning)Buying Guide
It's so important that fishers try as many different types of lines during their career as they can figure out what is best suited for them and brings them the most success.
Braided fishing lines in particular have been an extremely popular type thanks to its many advantages and suitability in most bodies of water.
However, with brands ensuring that their lines are made with the most advanced manufacturing technology, it can easily seem overwhelming when it comes to choosing which one is the best for you.
That is why we have curated this exclusive Buyers Guide, which gives you everything you need to know when conducting your research.
As braided fishing lines are usually available in a variety of weights and colors, you can usually altar that to suit whatever fishing trip you are going on depending on the type of water and the length of the trip, but there are other important factors to consider when looking at which line is perfect for you.
When deciding which braided fishing line is best for you, always consider how often you plan to go fishing, the material and durability, the thickness and weight of the line and the budget.
Once you've thought about all of these factors, you'll be able to come to a fully rounded decision on which fishing line is the best for you.
How often you fish
Always think of how often you fish as this is dependent on whether you would like to buy a lot in one big bulk or do smaller shops to replenish your stock.
If you like to fish daily then it's best to buy a lot of high quality products that are going to see you through a long time.
However, if you don't go fishing that much then you won't have to worry about replenishing your stock as much. Also remember to bear in mind how long your fishing trips last as you want to ensure that you have enough to last the whole time.
Material and durability
The material and durability is integral to the quality that you expect from the product.
The recommendations given in this article are made from very strong fibers that are made to be extremely durable and reliable, allowing you the security that you can fish with peace of mind that the line won't break or get damaged.
Made from the most advanced technology, you can be assured that they will have that longevity for longer trips as well as ease of use when hooking it up to your rod.
Thickness and weight
After you've thought about the material and durability you want, always consider the thickness of the line itself. One of the best advantages of braided fishing lines is that they are among the thinnest lines available thanks to its small diameters.
This is great as it is less visible to fish and therefore has a high chance of success. With a choice of 4 strand or 8 strand, you can determine how thick you want the line to be according to what kind of fishing trip you are going on.
Budget
Lastly, the budget is always important because there are many options that boast quality at every price point. You want to make sure that you are getting the best quality for the money that you are spending.
Once you've considered every factor in this Buyers Guide, you'll be ready to make a fully informed decision.
Frequently Asked Questions
What is braided line best for?
Braided lines can be advantageous for most fishing situations as you can use them as your main line or all-purpose line depending on what kind of water you are fishing in.
If you are fishing in clear water then you can attach your braided line to a fluorocarbon line so you can have a clear view of your line. In other waters, you could use your braided line for all-purpose thanks to their strength, sturdiness and thin diameter.
What is the best color braided fishing line to use?
When fishing in clear waters then its best to use either white or blue braided lines as they will blend into the color more. In stained waters then dark green is your best bet as it is less likely to be seen.
Avoid using red or yellow braids in any type of water as the fish will easily be able to notice them.
Is braided fishing line better than monofilament?
A lot of fishers question the difference between braided fishing lines and monofilaments and which one is the better choice.
Both have their fair share of pros and cons but what makes braided lines the better choice is the smaller diameter and greater casting distance.
This means that the fish aren't as likely to notice the line. It is also not damaged by the water or memory which can cause damage to monofilament.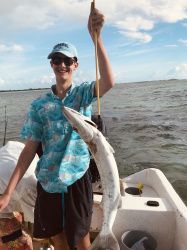 Latest posts by Andrew Marshall
(see all)