There are so many different things to think about when it comes to choosing a new leader line, and it can be difficult to decide between the wide variety of options that are available online.
Different materials will work better than others for certain circumstances, and each will have its own advantages and disadvantages when it comes to using them.
The two different types of materials for leader lines that we are going to look at in this article are fluorocarbon and monofilament.
We are going to look at the pros and cons of both of these different material types, so you can make a decision on which one that you are going to choose.
We are also going to show you some of the best leader lines to choose from that are made from either of these materials. This way, you can choose from the best products and be able to know which type of leader line would be the best for its destined purpose.
No matter what you intend to do with it, you can be confident that you are making the best choice for your circumstances.
In a Hurry?
Do you have a fishing trip coming up? Or have you just taken up fishing as a hobby? We can understand why you might be in a rush to get your hands on new fishing equipment so that you can be on your way.
Choosing a new leader line can be a difficult task, especially if you are unsure of what you are looking for, but we will leave our top pick here so that you can make a quick decision.
Our number one choice for the best fishing leader line is the fluorocarbon leader line by P-Line, which is available in a variety of different weights.
It aims to be the perfect mix of strength, stretch, and durability, which are three of the most important things to look out for when it comes to choosing a new leader line.
This excellent clear fluorocarbon leader line will provide you with a high degree of invisibility, and the formula that is used to make it will maximize the advantages of the natural properties of fluorocarbon.
It has roughly the same light refraction index as water and is able to almost disappear when it is under the water.
Only the finest raw materials have been used in the making of this product, and this leader line has an impressive amount of strength.
Not only is this product known for its strength, but it is also abrasion resistant for added durability.
This product is available in sizes 8lb through 200lb, and it is designed for use in both inshore and offshore saltwater, as well as freshwater applications.
You will not be disappointed with this product, and it is a great choice for any fisher.
Pros
This leader line will provide you with high levels of invisibility in the water
It will maximize the advantages of the uses of fluorocarbon
This leader line features an impressive amount of strength
It is also abrasion-resistant, so you can be assured that it is durable
Cons
Some users have noted that the line can be difficult to straighten
This leader line features super-strength, and it is one of the best in terms of the strength that it has to offer. You can choose from a variety of different sizes, and the line is highly resistant to abrasion, making it really durable.
It will deliver extreme fighting power and features great shock strength and high knot strength.
This leader line also offers anglers opportunities that you can only expect with a high-quality leader such as this one.
It has low-stretch and outstanding clarity and is made using strict quality control to ensure that this product is the best that it can be.
It also features low memory characteristics, so it will remain very soft and flexible, even after many uses.
It is also able to maintain a high tensile strength to diameter ratio, which provides you a smaller and stronger line that has more reel capacity for challenging fish.
Pros
This leader line has the strength that you need for the task at hand
You can choose from a wide variety of different sizes, depending on your needs
This product features high durability and is resistant to abrasion
It also has low-stretch and outstanding clarity
It features low memory characteristics and will stay soft and flexible over time
Cons
You should note that this product may get tangled easily
Best Fishing Leader Lines - Fluorocarbon Vs. Monofilament Buying Guide
There is currently big competition on the market between two very popular materials that are used for leader fishing lines.
Fluorocarbon leader lines and monofilament leader lines are two of the most popular choices when it comes to picking out the best leader line, and there is much debate as to which one is better than the other.
You will typically find that most people prefer to use one of the other, but there are also some experienced anglers that will have both of these items in their tackle box.
This is because both of these options have different advantages and disadvantages, and each could be useful in different scenarios.
The majority of these preferences come from experience, and others are just assumptions, but we are going to be looking at both of these options in detail, so you can decide for yourself which one is the best choice for you.
We are going to tell you all about the similarities and differences when it comes to fluorocarbon and monofilament leader lines so that you can make an informed decision.
In terms of which one is the best, this can be quite subjective, but we will do our best to tell you everything that you need to know about the materials and resources that are available to you, and you will be able to make that decision for yourself.
What is a Leader Line in Fishing?
The first thing that you will need to know when it comes to using leader lines when fishing is the service that it provides.
Knowing what a leader line actually is will help you to understand everything that you need to know. If you aren't already familiar with leader lines in fishing, then we will explain their purpose here.
The leader line is the line that you will have to use to tie to the hook or the lure when setting up your rig. It will also be connected to the mainline, and you can use either a knot or a swivel to do this.
The idea is that you will use the leader line to effectively present your chosen lure or bait as naturally as possible. This will help you to attract more fish.
This is the reason why many leader lines are designed to be almost invisible when they are under the water, as it will look more natural and inconspicuous.
Fish might be smarter than we sometimes give them credit for, and it is well known that if the fees are able to see the leader line, then it might decide to keep away.
The last thing that you want to do when you are fishing is to scare the fish away from you, which is why a good leader line is so important.
The way that you present your lure or bait is typically what will either attract or detract the fish that you want to catch.
The more natural-looking the setup, the more likely that you are to attract the fish and get a successful bite. Otherwise, you probably aren't going to get the bite that you are hoping for.
Leader lines are not only useful for this purpose, and they can also be great for being able to absorb the impact on the mainline.
This is mostly due to the fact that they have a slight amount of stretch to them, which helps to counteract the impact and absorb the shock.
This will only further increase your chances of actually catching the fish, even if it is showing high resistance.
The leader line is also useful for allowing you to reach your required depth in the water. The line may be more likely to sink or float, depending on the type of leader line that you are using.
This is a great feature to utilize, as you can get your bait or lure to your required depth in the water without any hassle. Ultimately, your leader line is a really important part of fishing that you should use to the best of your ability.
What Do I Need To Know About Leader Lines?
Leader lines are particularly useful for a variety of different reasons, and they will help you to achieve many different things when you are out fishing.
One of these many uses is the fact that they can help you to avoid lie breaks when you are using them.
Your fishing line is going to be under a lot of stress when it is in the water and the many different tools that you are using while fishing can add to this stress.
As well as your rig set up, there are also things that will be in your fishing environment that can cause damage, like rocks, thick vegetation, and more.
You might even come across some fish with super sharp teeth that are more than capable of cutting through or causing damage to your line.
Having a strong and durable leader line will ensure that the likelihood of this damage occurring is less.
A higher strength will typically come with a wider diameter, which is something that you should note when it comes to choosing a leader line of your own.
Reducing the visibility of the line is also really important, which is why many brands compete to offer leader lines that are the most invisible.
More often than not, you will come across some fish that will investigate before they decide to take the bait, which is why you don't want them to take any notice of the leader line and get scared off.
Not all fish are intuitive enough to investigate beforehand, but there are some that will, and you don't want to miss out on the watch because of the leader line being too visible.
The better than your bait is presented, the more likely that you are to catch more fish.
The final thing that you should know about is that you will be able to avoid any twisting in your line.
The fish that you are trying to catch probably won't go with you quietly, and they will thrash around in the water and put up quite a fight.
This will make your line twist as you are reeling it in, and this can actually end up weakening your line, which can cause damage.
Thankfully, when you use a leader line, you will be able to attach it to a swivel before you tie it to your mainline. This will work to ensure that your leader line can move freely without twisting around your mainline.
Fluorocarbon Leader Lines
Fluorocarbon leader lines are known for having a refractive index that is similar to water, which helps to make it almost invisible when the line is underwater.
This is really important, especially in clear water, so you don't scare off the fish. The lines are also known to be more resistant to abrasion than some other types of leader lines due to the fact that they are denser.
This is great, as it means that damage is more unlikely. Fluorocarbon also usually isn't affected by the impact of UV rays, and you won't have to worry about this causing damage.
Fluorocarbon leader lines do not absorb any water due to their high resistance and sensitivity as a material. This also means that this type of leader line will be the same inside of the water that it is outside of the water.
None of its properties or features will be affected by the water, and it is even known that water makes the material stronger.
This type of leader line also doesn't stretch much so that it will be more sensitive to fish bites, and you will be able to feel what is going on.
Due to the fact that this material is so dense, it also means that it will sink, allowing you to fish lower down in deeper water.
Monofilament Leader Lines
Monofilament Leader Lines are much more different than fluorocarbon leader lines, but they do also come with their own set of advantages.
In terms of their stretching ability, they are much more flexible, which is great for those situations where you require some extra give.
They are not as dense as fluorocarbon, which means that they can float better in the water, but this is not what they are designed for in specific.
While monofilament leader lines are known for being more buoyant, you can also use things like weights for deep water fishing, so this isn't likely to become a problem.
You can get these types of leading lines in a variety of different colors, so there is a wider choice of options that are available to you.
Most people would opt for a clear line due to the fact that it is less visible, though it won't be as invisible as fluorocarbon lines would be.
This is due to the fact that it is much more reflective. However, if you are fishing in murkier water with less visibility, then this might not be an issue for you.
One of the biggest advantages to monofilament leader lines is that they are a much more affordable option, and they are relatively cheap to pick up. You would be able to get more for your money.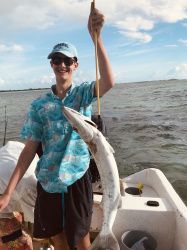 Latest posts by Andrew Marshall
(see all)