If you've decided to equip yourself with a chatterbait and trailer, then we commend you on your decision. You'll be reeling your bass in, in no time.
There's no shortage of chatterbaits and trailers out there, so to make lighter work of your decision as to which one to get, we've decided to show you which ones are our favorites. We think you'll be sure to find your next ones amongst them. And if you haven't tried it already - you're in for a treat.
First, we've got a line up of our 5 favorite chatterbaits, swiftly followed by a small selection of our favorite trailers for bass fishing.
5 Best Chatterbaits
Chatterbaits are the perfect way to get bass moving where you want it to.
They're kind of a hybrid between a crankbait, a spinnerbait, and a jig, offering the best of all 3 worlds. You've got the metal blade of a spinnerbait, the lead head and skirt of a jig, and the vibrating action of a crankbait to boot!
They came about as recently as 2004, and have since taken the fishing world by storm. There are some really great chatterbaits out on the market at the moment, and we've been checking them out.
After much deliberation, we were able to pick out our top favorites, which we can't wait to show you.
These include the original first-ever chatterbait, invented and patented by Ron Davis Senior, the Z-Man. And since the original Z-man, several adapted versions have been created by the very same company, and we'll be showing you some of those as well!
Let's see if we can't find you the perfect catch.
Here's another Z-man offering, a more slimline and easier to maneuver version compared to the original. It swings far more freely.
This is thanks to the new head design, and it means that you get more vibration too.
It has a fuller skirt profile, designed to color match with the enlarged jig head.
It also has super sharp jig head barbs, designed to hold your trailer securely in place.
They've truly thought of everything in this chatterbait - they've even used 3D eyes for a more realistic look.
It's available in two different sizes, a half an ounce version or one that's ⅜ of an inch. The smaller size is available about half the price of the slightly larger version.
There are three different color options to choose from: the pearl ghost, a black and blue one, and chartreuse sexy shad. Some really eye-catching options there, sure to gain the bass's attention.
Now, this is an incredibly popular chatterbait, having earned a very impressive 5 stars out of 5 average customer rating on the Amazon page - even after over 150 individual ratings.
It comes, yet again from top brand Z-man, but sees some significant changes to the original. And one of our favorite features on it has to be the razor-sharp hook. This is one of the things that makes it such a reliable piece of kit.
The link will take you to the Amazon page for the half-ounce version, but we can confirm that it's also available in different sizes elsewhere on the site.
There are four different styles to choose from, each with its own bass-enticing look.
There is a drawback to this chatterbait however, and that's the relatively expensive price. Don't get us wrong it's still very affordable but it can cost two to three times the price of some of the other chatterbaits out there at the moment.
But looking at the customer feedback it's clear that customers feel it's worth the extra money.
5 Best Chatterbait Trailers
A vibrating chatterbait jig isn't complete without a trailer. A trailer doesn't just give the lure bulk but should attract the bass by imitating the local wildlife the bass would snack on.
Here are 5 of our favorites!
Now, this is a fantastic trailer. One of the most realistic ones on the market.
It's available in 3 different color schemes, all of which would be appealing to bass. There's brown, black, or green.
It's also the perfect size, at 3.7 inches. And better yet, it's impregnated with salt, which means the bass will want to keep hold of it, giving you extra time for more hookups.
It works great with most kinds of jigs, including chatterbaits. You can see that in the photos on the Amazon page. But if your chatterbait gets damaged, then you could just as easily use this trailer without the chatterbait.
The pinchers and various appendages flap wildly, just like a living, breathing craw that the bass cannot resist.
It comes in a pack of a whopping 15 craws, so you don't have to worry about running out of them during your expedition. It's fantastic value for money.
This is one of the most popular trailers available from online retail giant Amazon, having earned 4 and a half stars out of 5 as it's average customer rating, even after over 900 such ratings.
We like how you can set it up to be Carolina rigged, with the weight fixed above the hook, instead of sliding down onto it. It's a good way to start off as a beginner, and you can use the technique to catch bottom-feeding fish, like bass.
It's available in several different colors and in packs of different sizes. We recommend going for a pack, rather than just getting one. You're then saved if you lose some to the water, and you get a better return for your money.
It has a slender body and has a nice size, at a realistic 4 inches long, big enough to get noticed by the bass. And that's not all, the claws also flap back and forth, creating even more action in the water.
This is another great favorite on the net, earning an average Amazon rating of 4 and a half stars, even after hundreds of individual customer ratings.
It's a nice, realistic size, at just 3.5 inches, and claws move too, generating more attraction from the bass.
But what we really love about these trailers is that the manufacturer uses a salt mixture in their baits that will get the bass to hold on that little bit longer before they try to get away.
There are a whopping 30 different colors to choose from, so you can experiment away.
It comes as a 12, so that should last you a very long time before you have to go shopping for more. And they're available at a bargain price too.
And they're made right here in the good old US of A, and they're a best seller with retailers.
What we love about this trailer is just how well it mimics small shad and bluegill forage. With its segmented body and forktail, not only does it look incredibly realistic but it also moves very realistically too.
The realism also comes from the size, at 4 inches long, but also from the coloring, black with blue dots, which would be very easy to match up with some of the chatterbaits we showed you earlier.
We aren't the only ones who love it - on the Amazon page it's earned an average customer rating of 4 and a half stars out of a possible 5.
It comes in a pack of 6 altogether, so you don't need to worry about losing one to the waters.
It's excellent value for money, too.
Here's another great trailer for attracting bass. It has a realistically contoured body and sleek nose cone.
It's available in several different sizes, and you also get 11 different colors to choose from. So it makes for a good choice of trailer to experiment with to see what works best where you like to fish.
Though the product description mentions some jigs the trailer works well with, it doesn't specify chatterbait specifically, we can confirm it works great with chatterbait and can help achieve a more noticeable vibration in the water.
You get 7 in a pack, so if you lose one to the water, it's not the end of the world.
Wrap Up
So, there we have it, our favorite chatterbaits and trailers. You can either go for a chatterbait and trailer in one, like the Z-MAN Chatterbait Elite we showed you earlier, or you can mix and match.
Part of the fun of fishing is experimenting with different tools before you find the ideal methods for the waters you like to go fishing in.
Happy bass fishing!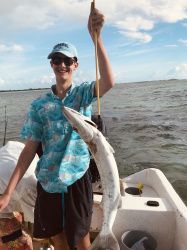 Latest posts by Andrew Marshall
(see all)