If there's any type of lure for bass fishing that's sure to work, it's the topwater frog! They're easy to work with and are effective throughout the entire country.
The online market is saturated with different types of frog lures, each with its own features, benefits, and occasionally drawbacks.
But the good news is that we've been going through them for you, and after much deliberation, we handpicked our top 15 favorites, which we'll be showing you very shortly.
We're going to split them into 3 different sections.
Following on from that, we've also got a handy buying guide for you.
It explains the 3 different types of topwater frog lures and then goes into what color of frog is best for luring bass.
In no time at all, you'll have picked out your top frog lure catch!
The Booyah range of lures is really popular. And this model, the Pad Crasher Bullfrog has earned over 1,200 individual customer ratings on the Amazon page alone.
And better yet the average customer rating still comes in at a very impressive 4 and a half stars out of a possible 5 stars.
It's available in 8 different color options, including bullfrog green, albino frog, aqua frog, cricket frog, dart frog, leopard frog, sunburn, and swamp frog.
Each of them looking very much like a frog, and each enticing to bass in their own way. We talk more about frog lure colors in our buying guide later.
It's a perfect size and weight for throwing into slop and weeds. The bait will remain totally weedless, and it's just about soft enough to guarantee a solid hookset when the bass takes a bite.
This is also thanks to the extra strong double hook and the spinnerbait-like legs.
Now, this is a bargain - you get a total of 5 different frog lures for the price of one!
They've proved very popular with customers having earned an average Amazon rating of 4 and a half stars out of 5, even after hundreds of individual customer ratings.
The color schemes include green and white, green and yellow, all yellow, yellow and black, and black and blue. So you can experiment to see what works best where you like to fish.
The hollow body has a perfect frog shape, complete with 3D eyes. And that's not all - it creates smooth and lifelike swimming actions in the water. The bass will think it's hunting a real frog!
Now, if realistic is what you want to go for, you need to look no further.
It comes as a pack of 5, and you can choose from frogs with a skirt, or frogs with more traditional looking legs.
All 5 of the color options are in various shades of green and yellow, imitating frogs and bullfrogs with their 3D eyes.
You can do the "walk the dog" technique, and have the lure move exactly like a frog on the water surface, hoping and swimming.
The hooks are positioned in such a way to minimize getting tangled up in weeds.
This is hands down one of THE most popular walking frog lures around at the moment.
While it doesn't feature a true frog shape, there is a green color option that accurately imitates a natural leopard frog.
But it's not such a bad thing if the bass thinks it's some other type of forage, like shad.
It's the perfect design for carrying out or practicing the famous walk-the-dog techniques.
The distinctive motion created in the water, whether at topwater or suspended can attract bass from quite a distance.
There are four different styles to choose from on the Amazon page, but this review is on the ¾ ounce Zara Spook.
We prefer this one because it features a double hook design to really improve your chances of a catch.
There are 16 different color options to choose from altogether, covering an array of different appearances of bass snacks.
Now, this is an attention-grabbing popping lure!
It's available in two different color schemes, including a black and green fire tiger frog, or a bright yellow swamp frog. We think the yellow one is particularly eye-catching.
The Hula Popper makes a great noise, both in topwater and on grass beds. Or even submerged timber weeds for that matter. It will wake up all the sleeping bass in the area, and get them ready to bite.
The popping noise is also thanks to its pulsating skirt - it really attracts attention.
It's available in two different sizes, 2 inches long and 1.25 inches long. But despite the difference in size, they both cost the same.
Did you know that Booyah also makes popping lures too?
This one is a favorite of ours. You can either use it as a walking frog lure or as a popping one, thanks to its cupped mouth, which really causes some loud commotion in the water.
The bass will move very swiftly to see what all the fuss is about!
There are 11 different color and pattern styles to choose from, including many of your usual greens and yellows, but also some brighter ones that can really stand out, and also some darker ones that make great silhouettes in the water.
It's a great choice for throwing into the slop and weeds, and the bait is 100% weedless, with a super-strong double hook and spinnerbait-style legs.
This is another great popping frog lure - and it lends itself well to two different fishing techniques, namely "walk the dog" and "pop and stop".
We recommend resting it horizontally on the water surface for optimum presentation to the bass.
And when you do the pop and stop, it makes a great realistic sound to get the bass' heads turning.
It has a patented ribbed belly that creates distinctive wave-motions and vibrations that bass can detect from a long distance.
It's 3 inches long which is a good size, and there are several different color options to choose from including 2 frog ones, and several shad ones.
It's proved to be very popular with those who've tried it out, and on the Amazon page, three-quarters of well over 250 individual customers rated it at a full 5 stars out of a possible 5.
This set of frog lures comes as a pack of 4, and each one of them features a fluorescent design, so no matter how heavy the cover on the water surface, the bass can very easily see the lure.
But if the color of the frog lures doesn't attract the bass' attention straight away, the sound will!
The large cupped mouth really makes an attractive bubble and splash in the water, and the bass will see it as a real food source.
We also like how the hook is designed to be weedless, hugging tight to the hollow frog body. Not to mention the lifelike skirt tails, replicating the kicking of a frog's legs.
If you decide to go ahead and buy these, please be careful to choose exactly the ones you want, as there are several different options on the Amazon page.
Now, for those who like their lure to not only attract plenty of bass attention but to also look as realistic as possible, then this right here may well be your best option.
Apart from the legs, you have a true to life frog-shaped hollow body, complete with 3D eyes and realistic patterning in the green multi-color option.
Confusingly, the other color option is mainly white but is also referred to as multi-color.
This one should really stand out in darker waters and low light. More on frog lure colors in our buying guide later.
We love its 360-degree rotating tail and how it plops in the water waking up and attracting the bass!
This is quite a dark frog lure, realistically colored mainly in dark green. But not only does it look real, but it also moves realistically, and the sound of its movement is also realistic to boot!
This is thanks to its uniquely designed "feet", which create a realistic "kicking" action that looks, feels, and sounds exactly like a live frog jumping across the water.
Because of its weedless status, you can get away with hopping the Ribbit onto areas where cover is heavy, where the big bass love to lie, and as it works its magic, you'll soon get the bass moving as you want them to.
What really struck us about this particular frog lure, was not just the plopping effect, but also how bright and vibrant the color schemes are. The bass would be hard-pushed NOT to notice it!
There are a total of 8 different colors to choose from, and these include your more natural yellows and greens, some really vibrant greens, a pitch-black one, and a ghost-like white one.
They are also divided according to style. We like the Little Bigfoot version. The oversized paddle feet create that all-important plopping sound and get that bass moving quickly.
It's a weedless hollow frog that will stay afloat, despite all the action it kicks off.
This means that you can use it like you would a buzz bait, so you can concentrate on casting in those areas where the really big bass like to dwell, like to weed beds and brush.
Best Topwater Frog Lures for Bass Fishing Buying Guide
As promised, here's your buying guide. Let's start at the beginning.
The 3 Types Of Topwater Frog Lures
Walking Frogs
These are the classic frog baits. You can drag them over the water as slow as fast as you please.
Alternatively, you can twitch them to make it look like the frog is moving and really get the bass's attention.
You can do other moves too, like walking the dog or burning the bait.
This is the most traditional and highly manufactured type of topwater frog lure. They're available in just about every color scheme you can imagine.
They're typically sold in packs of large quantities and serious bass fishermen have several in their arsenal.
Popping Frogs
The popping frog is only slightly different from your typical walking frog, but that minor alteration makes a huge difference in terms of creating sound and commotion in the water to attract the attention of the bass.
The popping frog differs from the walking frog in that it has a molded-in cupped mouth. The benefit of this is that it can spit water and chug bubbles.
This not only makes the frog look more realistic, but it can also help to attract the attention of lazy bass that have already had a bite to eat.
Plopping Frogs
Now, these relative newcomers to the scene are part hollow body frogs and part prop bait.
Rather than feature the more traditional skirted legs, it has legs that rotate, creating a distinctive "plopping" style commotion on the water surface, generating that all-important bass attention.
It's a particularly good choice for areas with thick cover that would normally cause a buzz bait to snag.
What Are The Best Colors Of Frog For Luring Bass?
You know what? There's no easy answer to this question. Here's why…
Gone are the days when hollow body topwater frog lures were green and only green.
However, real frogs can also exist in various shades of not just green, but also white and yellow. These days, however, you can get frog lures in just about any color and pattern you can imagine.
In many ways, the color of your frog lure is no big deal. Frogs are naturally found in areas where there's heavy cover, and where a bass won't pay too much heed to the frog's color - that's if they even notice it at all.
Moreover, your topwater frog lure can sometimes be used to imitate baitfish, such as shad, or even bluegill.
But all that said, most topwater frog lures fall into 3 main color schemes, namely black, white, and natural. Let's look more closely.
Black
A black frog lure creates a great silhouette that can easily be seen, even if the bass is swimming under a canopy of veggies as they look for bluegill.
White
While on the one hand, a black frog can create a striking silhouette, this doesn't always run true when the sky is more overcast and you've got low light conditions.
In this instance, a bright white frog can more easily grab that bass's attention.
Moreover, white hollow frogs can imitate live frogs, as well as imitating some baitfish such as shad.
Natural
You can't beat more natural colors such as green, brown, and yellow for really imitating a real frog. Or other natural forage for that matter.
They make for a good choice to use when the vegetation is thinner and more spread out.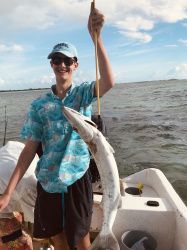 Latest posts by Andrew Marshall
(see all)