A saltwater spinning reel must be made to withstand the harshness of saltwater. Spinning reels allow for easy operation, allowing you to hold the rod in one hand and operate the handle to retrieve the fish and the line using the other hand.
Whether you're new to the fishing world or you're looking to upgrade your existing equipment, it is important to select the right spinning reel for your needs.
Although there are many saltwater spinning reels available, some lack in quality when compared to others. To create our guide, we have scoured the market and selected our top five picks of the best saltwater spinning reels available.
We have also included a handy buyer's guide where we have outlined some important features of a good quality reel along with some factors to consider when browsing through the selection available on the market.
If you are in a hurry, we have selected our top pick for you below.
The SHIMANO Saragosa Saltwater Spinning Reels are known to possess excellent strength with the ability to tackle the larger species found in saltwater. Offering up to 44 pounds of drag you can catch the most ferocious of offshore fish too.
For enhanced durability, the body has been made from XGT7 material that can withstand the harshness of the saltwater environment.
It also has a waterproof drag with shielded bearings to ensure that not even the toughest of fish or conditions can hinder the performance.
Thanks to the Propulsion Line Management System you can cast the line farther, without being confronted with any backlash or knots.
The drag system also incorporates rubber components for improved protection against the elements. The design helps to prevent any sand or salt from affecting the function of the bearing rotation.
This reel comes in multiple sizes, the smallest providing a great option for casting and spinning, while the larger is great for bigger game fish that you are likely to find when offshore fishing.
Pros
The waterproof body protects the reel from potential damage.
The quality of the handle makes it more comfortable to hold.
It is available in multiple sizes to suit the demands of different anglers.
The shielded bearings prevent sand or salt from being an obstruction.
It is equipped with an impressive 44 pound drag system.
Cons
The knob is a little stiff and may require more effort to function.
Entering the market at an affordable price, the Daiwa BG Saltwater Spinning Reel provides a great option for those on a budget. While it may retail within a lower price range it certainly does not compromise on build quality or performance.
The aluminum housing protects this reel from potential damage posed by the saltwater. Aside from this, it features a side cover and rotor that add to the strength while enhancing the durability.
The drag system is also protected by waterproof housing that prevents any sand or salt from entering and causing problems.
This reel is designed with an over-sized digigear system and this helps to prolong the life of the gears while making the transitions smoother with increased power and torque.
The screw-in handle also ensures that it sits flush to the main body and there is minimal movement between both components providing you with more control.
The ABS spool ensures that the line flows freely with reduced friction. While the smaller models have an anti-reverse system, the larger models feature a dual anti-reverse system. The air rotor also distributes stress much more evenly.
Pros
This reel is affordably priced and great value for money.
The anodized body protects the reel from damage caused by corrosion and scratching.
The screw-in handle helps to prevent unnecessary movement that can affect your control.
It has a waterproof drag system that is going to resist damage.
It can be used with braided lines.
Cons
Some may find this reel to be a little too weighty for their needs.
The Dr. Fish Saltwater Spinning Reel boasts a tough construction with the ability to withstand the toughest conditions while fighting against the meanest of fish. Designed for surf fishing, this reel has a 48 LB max drag that performs well with excellent strength.
It is designed with a 3:9:1 gear ratio that offers more torque and this is sure to be appreciated on occasions where you find yourself battling against larger fish.
Thanks to the rust-resistant ball bearings you can cast and retrieve the line smoothly. It is also going to resist any deteriorations to the quality which may affect the smoothness of the motion.
While the body of the reel has been made from a combination of stainless steel, aluminum, and graphite, the handles and bearings have been made from stainless steel. Because of this, this reel is super durable and resistant to damage.
Thanks to the line guard which is located just behind the spool, your line is protected from potential damage caused by snagging.
It also has excellent capacity for heavier lines so you aren't restricted with what you can use. Using this reel you can increase your casting distance which will allow you to reach greater distances.
Pros
This reel retails at an excellent price which makes it great for those who are on a budget.
The gear ratio offers more strength against tougher fish.
The handle is interchangeable and can be altered from the left or right depending on your hand orientation.
The bearings are corrosion resistant and allow for smooth casting and retrieval.
The design of the spool results in improved casting speed and distance.
Cons
The build quality could be improved to ensure that it doesn't deteriorate at a fast pace.
Best Saltwater Spinning Reels Buying Guide
With many different reels available, it is important to consider the following criteria to ensure that you invest in the reel that is right for you.
The Line Capacity
The line capacity is closely linked to the fish that you are intending to catch. If you are attempting to catch larger and faster fish you are going to require more line.
Your reel needs to be equipped with a deep spool and large line capacity. This will ensure that you don't run out of line in the process.
The Weight of the Reel
It is important to consider the weight of the reel. A heavier reel is likely to be more difficult to handle for a lengthy amount of time. If you are working with a heavy reel your hands are likely to develop wrist fatigue sooner.
Consider your fishing style and how the weight of the reel is going to affect this. If you are going to be casting a lot, ideally you want a lightweight reel as this will make the process less tiresome.
The Construction
Saltwater spinning reels are made from tough materials that can withstand the conditions in which they encounter. The body of the reel and the components are typically made from stainless steel or tough aluminum.
There are noticeable differences in the construction of saltwater reels and freshwater reels and it is therefore important to make your selection accordingly.
The Durability
As mentioned, your reel is going to be exposed to a harsh environment. Salt can be highly corrosive and as such the materials need to possess the strength to withstand this damage. Many will feature an anti-corrosive coating.
A reel that is not built to withstand such conditions isn't going to last for very long before the components begin to deteriorate.
You will find that many components are enclosed and this protects them from damage that could be caused by the sand or salt.
The Drag Strength
Species of saltwater fish tend to be much larger and so they put up more of a fight. Because of this, your reel needs to have a good and strong drag system.
The tighter the drag, the greater the resistance. Simply put, the drag will help to tame the fish without exhausting them in the process.
The drag settings can differ depending on the fish that you are trying to tackle. The maximum drag needs to be compatible with the strength of the fish that you want to catch. It should also be smooth.
The Handles
Your reel should be designed with comfortable materials that make it easier to handle. This is going to be particularly important for those who are going to be fishing for prolonged periods at a time.
The spool and reel handle need to be made to a high standard.
The handle needs to be strong enough to withstand the strength of larger fish. A handle made with poor quality and weak materials is going to struggle against and is more likely to deteriorate at a faster pace.
Braid Compatibility
Often, saltwater fishermen use braided lines because of the strength that it offers. The spool of your reel will need to be compatible for use with braided lines.
Many struggle to support braided reel, often causing a great deal of movement that can make the line difficult to retract.
A spool that has been designed to accommodate braided lines while preventing this movement from occurring will make it easier for you to retrieve the line.
Although the majority are suitable for use with braided lines, it is important to check the specifications beforehand to ensure that this is the case.
Inshore or Offshore Fishing
When selecting your spinning reel you will need to consider whether you are going to be fishing inshore or offshore.
For those that are going to be inshore fishing, they are likely to require a lower line capacity as the line isn't going to be cast to such a great distance.
The fish that you are going to catch is also likely to differ between inshore and offshore fishing. Fish that are found offshore are likely to be stronger and so you are going to require the use of a sturdier reel that can support this.
The Hand Orientation
While this may not seem like an important factor it is one that is certainly worth noting.
While the handles of some reels can be detached and secured to the opposite side to accommodate those of right and left-handed orientation, others are solely designated for use by one hand.
You will need to read the specifications of the reel beforehand to ensure that it is suitable for you. You don't want to invest in your reel only to receive it and be faced with the disappointment of it being unsuitable for your hand orientation.
The hand orientation is going to determine how easy the reel is to use. Of course, as expected you are going to experience great difficulties in trying to use a reel that is intended for those that are left-handed if you are right-handed.
As mentioned some can be detached and secured at either side and this eliminates the issue.
The Price
Saltwater spinning reels are a pretty affordable purchase with many options retailing below a $50 price range. The amount that you spend on your reel is going to depend on your budget and the regularity in which you are likely to be using your reel.
It is worth spending a little more on your reel rather than investing in a cheaper option, as one that is slightly more advanced is likely to boast more strength that can withstand the harshness of saltwater.
A more expensive reel is also likely to see you through more uses before beginning to deteriorate too. We have included a variety in our guide above to provide a selection that caters to different budgets.
Frequently Asked Questions
Can you use saltwater reels in freshwater?
Yes, saltwater reels can be used in fresh water and this is because they are constructed from tougher materials that can withstand the harshness and corrosion of saltwater. Due to this construction, they can withstand the elements of freshwater.
However, when it comes to using a freshwater reel in saltwater you will need to abide by the specifications of your chosen reel as they need to be constructed with the ability to withstand the corrosion caused by saltwater.
Are expensive spinning reels worth it?
Expensive spinning reels are considered to be a more worthy purchase as they tend to feature components and mechanisms that are made from higher quality materials.
It is also likely that they are going to have better drag systems. The advanced design is also likely to catch more fish.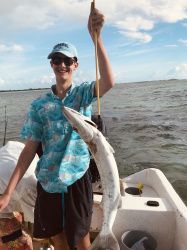 Latest posts by Andrew Marshall
(see all)