If fishing is your hobby then you'll of course be conscious of exactly how much your equipment costs you.
You don't have to spend hundreds upon hundreds of dollars on the finest equipment money can buy in order to be able to enjoy a few hours fishing.
There are plenty of quality spinning reels available for under $100.
Though with a lower price tag, it's all too easy to be caught out by cheaper quality reels. Just because you want to stick to a budget, it doesn't mean you should compromise on quality.
We've researched and reviewed hundreds of different reels to find the 6 best spinning reels under $100. You can rest assured that these spinning reels will be more than up to the task of assisting you in hooking your next catch!
We've even included a helpful buyer's guide featuring all of our review criteria so that you know what to look out for in a quality spinning reel under $100. There are also some frequently asked questions down below to help you.
Things To Bear In Mind
Understandably, a spinning reel that costs under $100 won't have as many fancy features as a more expensive reel. But if you're keeping to a budget that can't be helped!
Here's what you can expect from a spinning reel costing under $100. It's also worth bearing in mind that these factors won't necessarily compromise on quality.
Unsealed systems
In an effort to meet the cheaper price point that you're after, it's worth bearing in mind that drag systems and bearings may be unsealed as opposed to the sealed systems more expensive spinning reels are able to offer.
This won't necessarily be an issue for you depending on where you tend to do your fishing.
Remember that if you fish on beaches where sand or dirt can easily get into the components, you'll need to take care cleaning your new spinning reel after every use to ensure it's able to maintain its great performance.
Spare spools
While more expensive spinning reels will come with a whole range of extras such as spare spools, that will be something that you'll have to sacrifice with a more reasonably priced spinning reel.
A spinning reel under $100 will be unlikely to come with a spare spool for you to use, and will only come with the spool that the spinning reel itself includes. The good news is that a lot of the spinning reels we've included in our list are also braid ready!
Heavier reel weight
To keep the cost of these reels below $100, some manufacturers have swapped out pricier components for cheaper alternatives such as plastic. This will of course affect the total reel weight of the spinning reel.
This isn't necessarily a problem for keen anglers, however, it's worth bearing in mind that a heavier reel will take a toll on your wrists after a long day fishing.
Cheaper plastic parts
As we've mentioned above, cheaper plastic parts can sometimes be swapped in instead of using pricier metal parts. This will help to keep the cost of the spinning reels down in your price range.
Plastic isn't necessarily a bad thing. The only thing to bear in mind is the fact that these are likely to wear out quicker than reels constructed with metal counterparts.
6 Best Spinning Reels Under $100
One of the pricier choices depending on the size spinning reel you opt for, our final choice is the Pflueger President spinning reel. This particular spinning reel aims to give you the best performance but at an affordable price compared to the more expensive reels.
This particular spinning reel features a sealed drag system. The sealed drag washers are lubricated to maintain a thoroughly smooth performance.
This will be key for getting the smooth fishing that you're after. The sealed drag system also features slow oscillation gearing to minimize any line twist and to improve the line lay.
The Pflueger President features a 7 ball bearing system. The ball bearings have been manufactured with stainless steel and are resistant to corrosion.
This particular spinning reel has been designed to be as lightweight as possible to deliver an even better performance. It features a graphite body and rotor to be lighter on your rod. It also features a braid ready spool which allows the braid to be tied directly to the spool.
The Pflueger President is available in a number of different reel sizes, but it's worth bearing in mind that the price of the larger spinning reels may creep above your $100 budget. Ensure that you're choosing the right spinning reel for your fishing needs!
Pros:
Spinning reel delivers outstanding performance at a competitive price
Features a sealed drag system for smoother operation
7 ball bearing system constructed from stainless steel ball bearings
Designed to be as lightweight as possible
Available in different sizes
Cons:
Doesn't come with as many fancy features as some of the other spinning reels on our list
Best Spinning Reels Under $100 Buying Guide
With so many different types of spinning reels available on the market for under $100, it can be difficult choosing the right one for your needs. It can be all too easy to buy a cheap spinning reel that will break just as easily when you use it.
We've put together a list of all the essential things you should look for when it comes to choosing the best spinning reel under $100. After all, you want one that's going to do the job without costing you more money in the long run!
Here's everything you need to think about before you hit purchase.
Value for money
The main reason that you're looking for a spinning reel that costs under $100 is of course because you want to get the best value for your money.
Just because a spinning reel costs in the hundreds of dollars doesn't mean it will be any good - especially if you're more of a hobbyist.
There are plenty of spinning reels available under $100 which will do the job at a much more affordable price. So you should ensure that you're getting the best deal for your money!
Take a look at your chosen spinning reel. How many features is it able to offer you at the lower price point? Will it be suitable for your preferred method of fishing or for the fish you like to catch?
The more features your spinning reel is able to offer you, the better. It will mean that you get even better value for your money without having to compromise on quality.
Lightweight
A lightweight spinning reel will be an essential feature to look for. As a crucial component of your spinning rod, which is naturally lighter than some of the other rods available, you want a spinning reel that is going to work with it.
A heavier reel will make the rod less balanced, and ergo harder to control.
A lightweight spinning reel will also be much kinder on your wrists, especially if you're out fishing for hours at a time. A lighter spinning reel will mean you can enjoy your hobby rather than be constantly rubbing at your painful wrists after each cast.
Take a look at the materials that have been used for construction. Are they lightweight enough for your needs? Some of the spinning reels that we came across featured a hollow graphite body to be even more lightweight.
Most products should also list the weight of the entire spinning reel itself so you can double-check that it won't throw off the balance when added to your spinning rod.
Smooth performance
One of the most important things to look for is a spinning reel that's able to deliver a smooth performance. Of course, any spinning reel that disturbs the line more than necessary while you're lying in wait for your next catch won't be up to scratch.
Take a look at all components of your chosen spinning reel. How smoothly are they able to operate? This will be important for delivering consistent results in terms of the fish you catch - or how often you catch them.
Drag system
The drag system that your spinning reel comes with will be absolutely crucial. This serves to prevent your line or rod from breaking when you've hooked a fish and will work to tire your catch out until you're able to reel them in.
If you like fishing for the larger fish this will be especially crucial as they will be able to put up more of a fight - especially if you prefer saltwater fishing.
Take a look at the drag system that's included with the spinning reel. What's the stopping power that it comes with? If you're going for those larger, fightier saltwater fish, you'll want a heavier weight capability.
Another thing to bear in mind is whether you want a sealed or unsealed drag system. Depending on your budget you might not get much choice in this factor, but there are plenty of affordable options included above which feature both systems.
With unsealed systems, you'll just have to be more mindful of the fact it likely requires more maintenance to prevent any sand or dirt messing with the components.
Freshwater or saltwater
Another important factor that you'll have to take into consideration is the type of fishing that you need your spinning reel for. Some spinning reels will be better suited to one or the other, especially when it comes to the size of the reel itself.
It's worth bearing in mind that larger saltwater fish tend to put up more of a fight, too. This will affect the stopping power of the drag system you need.
Durable
Just because you don't want to spend more than $100 on a spinning reel doesn't mean you have to compromise on quality.
As long as your chosen spinning reel is made from hard-wearing, durable materials, it should last you for many years to come. Especially if it's cared for properly!
Take a look at the materials that have been used to construct the spinning wheel. What materials are the ball bearings made from?
While there are likely to be some plastic components on a reel in this price bracket, the more stainless steel parts that it has, the better.
Stainless steel is designed so as to not rust over time, which will be crucial if your reels tend to get wet during fishing expeditions.
Reel size
The reel size of course refers to the amount of line that your spinning reel is able to hold. The ideal size of your chosen spinning reel will differ depending on the type of fishing you prefer to do. Or more accurately, the type of fish that you hope to catch.
The larger the fish you want to catch, the larger the spinning reel you'll need to get. The good news is that the vast majority of the spinning reels are available in a range of different sizes so you can still choose the better spec to suit your rod's needs.
Frequently Asked Questions
Are expensive spinning reels worth it?
That will entirely depend on your personal preference. While it's undeniable that spinning reels at a higher price point will likely last you longer due to the pricier components, it doesn't mean that you can't get a decent performance out of a cheaper spinning reel.
We would suggest thinking about how often you go fishing. If it's more of a hobby than a professional calling, there's no reason why your rod won't be able to do a good job with a spinning reel under $100.
What size spinning reel should I get?
It's important to get the right spinning reel for your rod, as you'll want to get the balance just right. The size of the spinning reel you need will depend on the type of fish you want to target.
A 1,000 spinning reel is the smallest size available. This will be the type of reel you need if you wanted to catch fish such as small wild brown trout or perch.
A 2,500 spinning reel is similar to the smaller 1,000 reels in terms of the lighter fishing tactics such as spinning, jigging, and drop shotting. However, it has a slightly bigger line capacity and spool.
If you're wanting to catch trout, the 3,000 sized spinning reel will be ideal. This will give you a happier medium between the two reels on either side of it in terms of size.
You'll have enough line capacity to account for higher breaking strain lines all with the benefits of a much stronger drag system. This size reel will still be fairly compact in terms of size and how much room it takes up on your rod.
If you want to target the larger fish, then you'll need to opt for either a 4,000 or 5,000 sized spinning reel. The 4,000 is best for catching specimen size trout, pike, and salmon. The 5,000 is better suited for even larger specimen fish that require more cranking power.
Do pros use spinning reels?
The pros do indeed use spinning reels when the occasion calls for it. A spinning rod is able to cast a light lure much more effectively than a baitcasting reel.
While a baitcasting reel can cast heavier lures, sometimes a spinning reel is the better choice depending on the fishing scenario. It's only natural that professionals would choose the better reel and rod for the job!
Should you spend more on a rod or a reel?
While the right reel is important for the job, it is generally worth spending more money on a decent rod to match your chosen spinning reel if you can afford it.
A quality rod can help you to feel the bites much easier than a cheaper version. It's better to save those dollars for the rod and shop smart when it comes to your spinning reel. Take a look at the 6 best spinning reels under $100 listed above to get you started!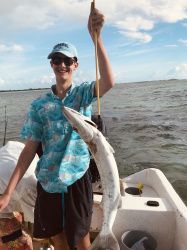 Latest posts by Andrew Marshall
(see all)