When the aim of the game is to reel in some chunky catfish, you know that the best Rod and Reel combos are going to be the ones that can handle the weight of those bigger catches.
It wholly depends on what catfish you're looking to catch, as the weight can vary a great deal between different types of catfish.
Your best bet is to choose a rod and reel combo that is going to be sensitive enough for those smaller catches but can still handle the big catches.
You never know when these bigger catfish are going to crop up, one minute you're catching small channel catfish, and the next you're reeling up a 20lb flathead!
Don't let your Rod and Reel combo be the reason you miss these big ones. Ensure you're equipped for all eventualities.
In this article, we aim to tell you all about the 6 top Rod and Reel Combos for Catfish.
We will be reviewing all six of them, letting you know the key features of the product and what we thought of them.
With this, you will be able to pick out the one that is going to best suit your needs and enable you to catch countless catfish!
We will also be going over some of the key features you should look out for when it comes to purchasing a rod and reel combo later on in our 'Final Verdict' section. Be sure to check this out in order to know exactly what to look for.
Without further ado, here is our list of 6 Rod and Reel combos for catfish, all handpicked by us to help you!
This Rod and Reel combo by Ugly Stik is a great choice if you are looking for something versatile and durable.
We recommend that you get yourself the Medium-Heavy size, in particular.
It's a great all-rounder for anglers of all skill sets and levels, whether a beginner or a seasoned professional. The construction is strong and sturdy as it is made of graphite and fiberglass.
You will be impressed by its sensitivity even on those small catches that have barely any bite.
It is also surprisingly lightweight meaning you can easily lug it around on fishing trips.
The EVA grips ensure it is comfortable to use, and you can rest assured that operations will be smooth thanks to the instant anti-reverse clutch bearing.
Pros
Great for anglers of all ages and experience
Very lightweight whilst ensuring it is powerful
Durable materials used to ensure longevity
Easy to use and well made
Cons
Some customers have said that whilst the rod is made well, the reel is lacking in terms of quality. Keep this in mind if you feel that a reel is very important to you.
A good, reliable choice for the casual fisher. This Reel and Rod combo is a great choice for someone trying their hand at catfishing, perhaps with a partner or parent.
Lots of reviewers commented on the fact that they bought it for their wife or daughter.
It is very lightweight whilst still sturdy and durable thanks to the graphite frame and metal handle.
It is medium action, making it a fine choice for most catfish. It is easy to use, even for a complete beginner, and it has changeable right and left hand retrieve that can be accessed quickly.
The retrieve is a modest 3.6:1 and so will suit most casual users.
Pros
Easy to use, even for beginners
Super lightweight
Durable and sturdy materials used to ensure longevity of the rod
Can handle moderately sized catfish as well as the smaller ones with ease
Cons
Quite a basic set-up so it is perhaps better for casual fishers and beginners to the sport. Nevertheless, it is of good quality!
Yet another Zebco product graces our list. This moderate action Reel and Rod combo is a great choice if you are aiming to hook in some catfish as well as walleye, bass and trout.
It has a fiberglass rod to ensure durability and strength, whilst still promising you comfort thanks to the EVA and cork dual grip rod handle.
We loved the fact it had all metal gears as this ensures durability even after extended use.
It also has QuickSet ranti-reverse and a changeable left or right hand retrieve that can be accessed quickly.
It is resistant to abrasion and wear and tear, making it the perfect choice for weekend fishers who go as often as possible!
Pros
Durable and strong thanks to the high quality materials
Comfortable to use
Great for moderately big catfish as well as the smaller fish you may come across
Easy to cast
Cons
Some reviewers have said that they found the poles to be on the flimsy side, so bear this in mind if you are aiming to catch huge fish!
Final Verdict
...and there you have it, our 6 Top Rod and Reel Combos for Catfish.
We hope that our list has enlightened you to the huge variety of choices that you have out there when it comes to finding the perfect Rod and Reel combo for your catfishing needs.
When you first begin to look for something as specific as that you can easily be bogged down by all the choices out there, wondering whether it will truly fit your needs exactly. We hope that our article has made this a little easier for you.
The main thing to bear in mind when shopping for a Reel and Rod combo especially for catfish catching is the fact that you will want it to be versatile.
This is because the weight of a catfish can vary a great deal defending on the type of one you catch. You will want your rod to still be as helpful for those 20, 30 and even 40lb catches in the same way as it is for the smaller ones.
You also need to consider how often you will be using your rod, as this will determine the quality of the materials you need your product to be made from.
What we mean is, if you are only going to be using it occasionally because you don't get a chance to fish very often, then it is unlikely that you will need to spend a huge amount of money on the best quality one on the market.
However, if you go fishing every weekend, you may find that it is worth investing in something a little more durable, especially since catfish can sometimes be heavy enough to cause strain on your rod.
Comfort should also be considered, especially on the handle of the rod. Look for handles that allow you to have excellent control and grip that are made from EVA foam or cork to ensure that your hands will feel comfortable.
You should also see how it stands up in wet conditions. After all, you don't want your hands slipping off your rod in the rain and potentially losing not just the fish but your whole set-up!
Keep all these things in mind when buying your Reel and Rod combo for catfish, and you won't go far wrong! Happy fishing!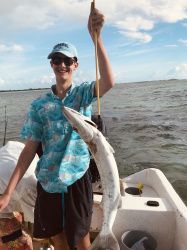 Latest posts by Andrew Marshall
(see all)