If you've finally taken the bait and decided to begin freshwater fishing, be warned that compared to saltwater fishing, it's a whole other kettle of fish.
Freshwater fishing is incredibly popular, especially among beginners. This is because freshwater locations are typically very calm in comparison to choppy saltwater fishing spots. Freshwater fishing can be done almost anywhere in the world and at any time of the year.
By freshwater fishing, you can also aim just for smaller fish, allowing you to work your way up to a more challenging catch.
Freshwater tackle is also much cheaper than its saltwater counterpart, as saltwater tackle and gear need to be protected from possible damage caused by the salt.
Freshwater fishing is considered easier than saltwater fishing. This is because you're more likely to experience a fight from a fish in saltwater, which is why it's best left to the experienced fishermen until you're ready.
In the world of freshwater fishing, too much attention is often paid to boats, lures, and other equipment. However, the rod and the reel is probably the most important element.
A lot of attention gets paid to lures and boats in the fishing world, but it's the fishing rod and reel that do the real work.
Modern rods are made of space-age materials that mean they can last a lifetime, handle a wider variety of fish, and withstand fighting fish. But the best fishing rod brands for beginners aren't just high-quality, but they're affordable too.
They're also typically built by anglers, for anglers.
In this article, we're going to provide you with a rundown of the 7 best fishing rod brands that specialize in freshwater fishing. We'll take a look at high-tech brands as well as more budget-friendly brands.
1. Ugly Stik
Since 1897, Ugly Stik has been the leader in quality, affordable fishing tackle.
It's a subsidiary company of Shakespeare, a popular fishing equipment retail company. While it may seem unusual to brand your products as "ugly", there's a reason for the odd name choice.
The earliest Ugly Stik rods weren't very pleasing on the eye. They were large, had metal handles, and the wraps were striped.
Over the years, the appearance of Ugly Stik rods evolved into their now recognizable style. They rose to new levels of fame after their television commercials featured multiple Ugly Stik rods being run over by cars, and surviving.
Ugly Stik rods are great for freshwater fishing as they can pretty much be bent into a circle without snapping, thanks to their sturdy construction process.
Their rods also contain graphite in the center of the fiberglass wraps. This increases the sensitivity and flexibility but it remains firm and strong.
Ugly Stik prides itself on producing budget-friendly and attainable rods for all fishermen, including beginners. You can get your hands on a high-quality Ugly Stik freshwater rod for $40 - $100.
2. Dobyns
Dobyns Rods is the brainchild of tournament angler Gary Dobyns. He has won over 100 fishing tournaments.
The decades of knowledge that Gary has acquired and the fishing techniques that he has mastered are all incorporated in the fishing rods offered by the company.
The company is very strict when it comes to product quality and the design principles followed in their production department.
Their products mostly offer a combination of handy features and price making them popular worldwide among the fishing community.
Their Savvy Micro Series Mag Casting Rod is the ideal choice for someone who is looking for a rod that delivers good performance but doesn't cost an arm and a leg.
If the price is not a factor and if you are looking for a rod that is capable of swim casting lures, the Fury Series FR 795SB Swimbait Rod is surely the best among the lot.
3. G. Loomis
Established in 1982, G.Loomis is one of America's most popular fishing equipment manufacturers and all of their rods are built by hand in the USA.
G.Loomis rods are notoriously strong, responsive, and consistent. They feel great in your hand and remain comfortable even after hours of continuous use.
Every G. Loomis fishing rod is designed with durability in mind. Their proprietary resins and composites insure that each rod can handle the stress of a big fish.
G. Loomis uses only the highest quality line guides, reel seats, and handles. The cork handles of their freshwater rods are filled and treated using a proprietary process to prevent any void fill from ever dropping out.
Probably the only drawback of the company is that their freshwater rods aren't affordable or accessible for many anglers, especially those who are new to the fishing scene.
However, you do get what you pay for when it comes to G. Loomis rods. Each of their series collections provides great features, and you won't be disappointed if you choose to invest in one of their rods.
If you're looking for a cheaper option and one that's more portable, take a look at their E6X Inshore Spinning Series.
4. St. Croix
St. Croix Rods is a family-owned and managed manufacturer of high-performance fishing rods.
In its 70-year heritage of U.S. manufacturing, St. Croix has grown to become the largest maker of fishing rods in North America. Each St. Croix fishing rod is constructed in a 32 stage process by 32 pairs of hands.
Their Legend Glass Spinning Rod is a great option for those hoping to fish in freshwater. It's a medium-power, moderate-action spinning model that measures 7ft 2".
If you enjoy launching small and midsized baits on light line, this rod could be perfect for you. Its slim profile outperforms stiffer rods that tend to cause slim profile crankbaits to tumble when cast.
If this isn't quite your style, St. Croix has an array of other freshwater rods available. They make fly rods, rods for bass, salmon, trout, walleye, and they make travel rods too.
However, St. Croix isn't a budget fishing rod retailer. Their premium rods come with a large price tag, but you certainly get what you pay for in terms of quality.
5. Okuma
Okuma Fishing Rods are known for delivering premium performance and satisfaction. The company was born in Taiwan with headquarters scattered all over the world including the United States.
Their rods incorporate state of the art technology and futuristic materials combined with effective design.
Okuma Freshwater rods are suitable for freshwater fishing in rivers, dams, and lakes. The manufacturer boasts that each of their rods has been designed with their Okuma patent UFR (Ultimate Flex Reinforcement) technology. This is said to provide three times the strength and lifting power of traditional rods.
Their freshwater rods come in a variety of styles but each one has been crafted from high-quality materials, has an ergonomic design, and can deliver an ideal fishing experience for any freshwater angler.
The Helios SX Rod, Alaris Rod series, EVX Musky Rod, Inspira Rod series, and Tactical Rod are just a few of their high-performance freshwater rods.
6. Favorite Fishing
While Favorite is a relatively new name in fishing, its leadership has roots deeper and more experienced than most industry startups, and they've got big plans for the future of fishing.
They're already becoming increasingly popular among American anglers thanks to their huge range of different fishing rods.
They supply budget-friendly rods, mid-range rods, and more expensive high-tech rods. They also sell reels, too.
In fact, their products range in price so dramatically that you can get a rod and reel combo for 50 bucks or you can get one for 450, they really do have something for everyone.
You may have come across Favorite Fishing before, their advertising campaigns tend to be loud and hard to ignore, and they sponsor many professional fishermen now, too.
One of the most popular Favorite Fishing freshwater rods on the market right now is the Elite Pro Series model. This is because it has been developed by professional anglers themselves, so it's a product of knowledge and years of experience. These rods were even tried and tested on tour to ensure peak performance and maximum durability at all times during competitions.
The Pro Series model is a medium-heavy power, fast-action rod that measures 7ft 3", perfect for any beginner in freshwater fishing. Ever Favorite Fishing rod comes with a lifetime warranty, too.
7. Daiwa
Daiwa has been producing the highest quality fishing equipment for more than half a century, and fishing rods hold a special place among them.
Since their inception back in 1945, they have been manufacturing everything from freshwater rods to travel rods and even fly rods.
The Daiwa Ardito spinning rod stands out as a firm favorite for freshwater anglers. This model is made in Japan and acts as an excellent assistant for anglers who prefer jig spinning. The necessary rigidity, good power reserve, and a short handle allow any manipulation of this bass rod.
The highly modular Carbon HVF, which serves as the base of the blank, gives the Daiwa Ardito spinning not only strength and sensitivity but also low weight. This rod does not load your wrist. This rod quality allows you to enjoy fishing all day long without feeling tired.
Honorable Mentions:
Shimano
Shimano is a Japanese multinational manufacturer of cycling components, fishing tackle, and rowing equipment. They're one of the most popular fishing brands in the world today, but their products aren't always the most affordable.
The Shimano Vengeance CX spinning rod is a great entry-level spinning rod. It's strong, versatile, and modern looks make it stand out from other rods in its price range.
Fenwick
Fenwick has been around since 1952; they were the first company to make an all-graphite rod. Their Aetos is a great affordable fly rod option that outperforms its competitors.
It also has a fast-action blank that's great for learning to cast. The five-weight is perfect for a variety of species, from trout to bass, and it's got a lifetime warranty.
Fenwick shouldn't be completely disregarded in your pursuit to find the perfect freshwater fishing rod manufacturer.
What's the difference between saltwater and freshwater fishing?
Saltwater fishing includes just about "any method of fishing in the ocean like fighting a fish from a boat or saltwater fly fishing," according to Fishmaster.
On the other hand, freshwater fishing refers to a "fishing practice done in a freshwater location or any body of water that has less than a 0.05% salinity level such as lakes, rivers, and ponds," according to Freshwater Fishing Advice.
Another great difference between the two is the type of experience you'll have. Saltwater fishing can be exciting and quite the adrenaline rush since the fish fight to be caught. Whereas, freshwater is usually more laid back and relaxing for fisherman.
If you're just starting out in fishing, fresh water is definitely a perfect match for beginners. In this calm atmosphere, you can improve your skills by aiming for smaller fish.
You also don't need expensive tackle, which saltwater typically has because the gear needs to be protected from the salt. Also, saltwater is suited for more experienced fishermen since they tend to encounter a fight from the fish they're trying to catch.
What to know before freshwater fishing:
Once you've settled on a rod, you're ready to go freshwater fishing. If you're a beginner, here are some helpful tips before you venture into the world of freshwater fishing for the first time:
Take time to try to learn the depth of the freshwater spot you plan to fish. This is because various species prefer different water temperatures.
Pay attention to time and weather patterns because environmental factors like sunlight and moon phases can affect fish activity.
Select the best bait to attract freshwater fish. Common live baits are worms and minnows.
Make sure your tackle matches the species you want to catch since the right freshwater fishing gear is critical to attracting the fish you're after.
Wash your hands to improve your chances of success because fish have a sensitive sense of smell.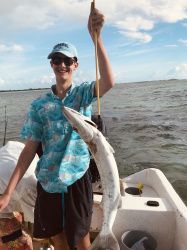 Latest posts by Andrew Marshall
(see all)