If people concentrated on the really important things in life, there'd be a shortage of fishing poles - Doug Larson
Fishing isn't just a hobby and a pastime popularised by Mark Twain that idles away the hours of the day in a state of bliss and fulfilled joy.
It's a fully immersive lifestyle that encourages you to push yourself to the limit of your ability and teaches you the disciplines of patience, dedication, and devotion.
That said, fishing is also a lot of fun and is enjoyed by a worldwide community of enthusiasts who happily, and readily accept any and all newcomers, and who with a little bit of cajoling, will happily share their angling secrets with you.
There will come a time, as your interest in fishing and ability increases, that you'll want to start investing in a better pole and a better reel.
And there's no better way to up your angling game, catch bigger fish and learn to more accurately cast with your line, than with a baitcasting reel.
That's why we've put together a list of the ten best baitcasting reels so that you can take advantage of all of the tools available to you and become the sort of freshwater fishing person that you always wanted to be.
Whatever you want to catch, bass, trout, salmon, pike, sturgeon, or any of the other fish that lurk in the rivers and lakes of America, armed with a baitcasting reel, you'll be able to hook the prey you want, when you want. It's time to start casting…
Daiwa has been pushing the envelope of fishing and angling technology for more than sixty years and has consistently changed the path that the sport has followed during that time.
A brand that believes that you should only ever have the best equipment on hand, Daiwa has made it their primary goal to ensure that every single reel that they make will enable you to follow your heart and fully embrace the thing that you love doing most; fishing.
Forged from aluminum, the Tatula 100 is light, strong, and made to resist corrosion and anything that the elements can, and will, throw at it.
Using Daiwa's Magforce Z technology which effectively and efficiently controls the intensity of the reels magnetic field and allows it to cast further, the Tutalua was engineered using the T-Wing system that incorporates a larger, wider, and less restrictive line guide that allows you to cast further and with a greater degree of accuracy. It's strong, accurate, and made to go the distance.
And thanks to the revolutionary SV-Concept that Daiwa readily embraced, you don't have to adjust the Mechanical Spool Brake Knob when casting.
All of the full adjustable braking power that you'll need to help you control the accuracy and distance of the Tatula is readily available with a twist of the magnetic dial.
Daiwa has thought of just about everything, so all that you need to do is get out there and start casting.
Pros
Made from aluminum, the Tatula was purpose-built to be the ultimate in competition reels. It's light, strong, and thanks to the combination of Magforce Z and T-Wing technology that it uses, it's also incredibly accurate and can go further, and for longer, than you ever thought possible.
And, more importantly, it won't hurt your bank account or scar your pocketbook. The Tatula was made to be any everyday reel that the everyday fishing fanatic could easily afford.
Daiwa's name and reputation mean everything to them and nothing leaves their design workshop without being pushed far beyond the limit of everything that they expect it to do and more. In other words, the Tatula is a baitcasting reel that you'll always be able to depend on and rely on.
Cons
It's a right-handed reel and isn't available in a left-handed version. This seems a little odd to us, as it cuts out a significant part of its target audience and alienates a large percentage of the fishing community, but then we don't make the decisions at Daiwa. If you're a lefty, you're going to have to look elsewhere for your baitcasting reel.
While it's a smooth casting reel, it is a little louder than some fishing folks would like. While this isn't a deal-breaker, it can be a little distracting when you're out on the lake fishing, especially if the company you're with isn't used to the sort of volume that it makes when you're using it.
Having been in business for a century and having made their first mass-market fishing pole more than eighty years ago, it's safe to say that Abu Garcia knows more than a little about what makes a fishing enthusiast's souls sing and heart beat a little faster.
There's a reason that they've been in business as long as they have and that's because they're committed to providing anglers everywhere with the highest quality and most innovative products.
Built from an alloy frame, within an aluminum handle side-plate and a carbon side palm plate, the Revo STX is a durable, strong, and light reel.
It's DuraClutch and D2 gear design means that it has instant anti-reverse, so you'll be fully in control of your cast whenever you hit the water.
With ten steel ball bearing and one roller bearing to ensure continuous and smooth operation, a power stack carbon matrix system to enable to deal with extreme drag pressure, and dragger brass gear to ensure that the reel will outlast the user, Abu Garcia has put everything that they've learned about fishing pole manufacturer to good use with the Revo STX.
Weighing less than half a pound, the Revo STX is the ideal baitcasting reel to begin your extended fishing journey with. It's light, it's strong, made using only the finest quality components, has a fantastic cast length, and is deadly accurate.
It's the sort of baitcasting reel that long time anglers and die-hard fishing fans dream about and after you've used it for the first time, will continue to linger long in your memory.
Pros
Abu Garcia made their reputation by creating the sort of equipment that would let anglers follow their heart's desire with unrelenting passion. They achieved what they set out to do and they have nothing to prove to anyone. Those who know about Abu Garcia and what they do are committed to following them without question.
At just under half a pound, this baitcasting reel is just as tough as it is light. It's designed to be your constant water-bound companion for years to come.
There's a left-handed and right-handed variation of the reel. It's been made to suit, and work with, every anglers individual fishing and casting style
Cons
If you only have small hands and fingers, the brakes on the Revo STX can be difficult to operate and might need a few improvisational touches of your own to work the way they're designed to.
Based in Clearwater, Florida 13 Fishing has a simple agenda. To make the lives of anglers better through the use of technology.
The Concept Z turned the angling world on its head when it first appeared and it's still continuing to make waves by abandoning tradition and charging headlong into the future with its radical and uncompromising design.
The only tradition that 13 Fishing kept when they made the Concept Z was their adherence to fashioning it from aluminum to ensure that it was light, durable, and strong, and able to cope with any elements and catch.
With inbuilt corrosion-proof Ocean Armor 2 technology, the Concept Z is just at home on the sea as it is on the lake, and having replaced the ball bearing system with a proprietary polymer technology and installing a high-performance reel that reaches further and faster than it's conventional cousins, the Concept Z dragged bait casting into the world of tomorrow.
Using a unique six-way centrifugal braking system that's fully adjustable, 13 Fishing put a weapon of mass casting destruction into the hands of fishing enthusiasts everywhere and made sure that nothing would ever be the same again. Why follow the herd, when you can walk in 13 Fishing's footsteps and learn how to fish your own way.
Some brands are content to sit in the shadows and let life pass them by, but 13 Fishing believe that sometimes you need to step into the light and lead by example. And when they unleashed the Concept Z, that's exactly what they did.
Pros
Built like a tank and made to last, the Concept Z is proof of what can be done when you let ambition and desire take the reins and guide you.
The fully controllable six-way centrifugal braking system allows you to choose the weight limit of your lure and used in conjunction with the Concept Z's polymer ball bearing system, makes casting smooth and straightforward. Baitcasting is an art and the Concept Z is the reel that'll help you to master it.
It comes with a limited one-year warranty that protects you against any manufacturing or design defects. If the Concept Z does fail due to production error within that time frame, 13 Fishing with either repair or replace your reel.
Cons
And now for some good news. There are none. Everyone who uses this reel falls in love with it and adores it. It might be a little pricey side, but like all of the best things in life, the Concept Z is worth it.
Sougayilang was founded to spread the joy of fishing around the globe, and in order to do that, they started designing and manufacturing the sort of fishing apparatus and paraphernalia that potential fishing folk everywhere could take to heart and use on their quest to become full members of the worldwide fishing family.
Engineered around a machined aluminum frame and body, the Sougayilang has a ten stainless steel ball-bearing system, automatic anti-reverse, and a ten setting magnetic brake that's easily adjustable.
This bait caster does exactly what its manufacturer says it will. It makes fishing fun and encourages you to find the hidden joy in every moment that you spend with it in the water.
In an age where everything revolves around functionality and adaptability rather than ill found corporate loyalty, Sougayilang has charted their own course through the often murky waters of the fishing world.
But they've stayed the distance, and slowly but surely they've started to win their own legion of fans and prove that there's more to fishing than the name on your reel.
Pros
Sougayilang isn't about inventing new technology or pushing the boundaries of what is and isn't possible in the world of fishing, they just want to provide affordable fishing equipment that everyone can use to improve their lives.
And while we're on the subject of affordability, this is one baitcasting reel that won't hurt your pocketbook or damage your bank balance.
They're so confident in their product and so sure that it will help you to find your footing in the fishing community, that Sougayilang offers a two-year warranty on all of their baitcasting reels. If it fails for any reason, they happily replace or repair it for you.
Cons
It's plagued by the same issues that most baitcasting reels seem to be, sometimes a bad one makes it off the factory floor and when it does, all hell breaks loose on the internet. Just remember if you're tempted by the Sougayilang, that the good reviews and fishing fans who are happy with the reel far outweigh the bad and those who are disappointed by it
Best Baitcasting Reels Buying Guide
Which Baitcasting Reel Is The Right One For Me?
As the price differential separating the reels on our list is vast, the best way to decide which reel is the right for you is by setting a budget, sticking to it rigidly, and taking another look at our list.
Even though some of the baitcasting reels on our list include a host of features that some of the others don't, at the end of the day, they're all made to do the same thing. So choose wisely, choose well, and listen to your head instead of your heart.
Frequently Asked Questions
What Is A Baitcasting Reel?
Baitcasting reels are fishing reels that are purpose-designed for accuracy and casting distance and can be used in both freshwater and saltwater fishing.
Built to sit on top of a fishing pole, or rod, rather than in the more conventional below the handle of the pole position, bait casters use a braking system that is engineered to give an angler more control of her or his casting that is usually controlled by the thumb.
While bait casters grant an angler a far greater degree of control, due to their braking system and position, they're geared toward more experienced anglers and those looking to take their next step forward in the world of fishing.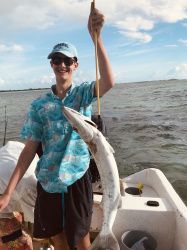 Latest posts by Andrew Marshall
(see all)