Whether you have been fishing for a long time now, or you have just started out, there are always ways in which you can learn to improve your overall experience.
There are so many different methods of fishing, and there are always new things to learn, no matter your skill level.
The drop shot rig is becoming an increasingly popular rig when it comes to bass fishing, and you can use this method in both deep and shallow water, pretty much almost anywhere.
We are going to look at the drop shot rig in this article, and tell you everything that you need to know about it in order to use this method successfully.
There are lots of different things that you will need to think about if you are going to try the drop shot rig, and we will let you know a few tips and tricks that should help you along the way.
We are going to look at what the drop shot rig is, how to use it successfully, and what you need to know to be successful.
However, just because there is lots of information, it doesn't mean that it is a complex idea.
The drop shot rig is actually really easy to use for fishing, but if you can cast, then you can fish a drop shot rig. It really is that simple.
What is a Drop Shot Rig?
The drop shot rig is one of the easiest ways to start lure fishing, and it is a highly effective method for a variety of different fishing experiences that will help you to catch a specific species of fish.
You can attach a variety of different weights under the lure so that you can be sure that you are fishing near the bottom of the water, and you can easily change the depth in which you are at by simply moving the position of the weight to suit your needs.
Originally, drop shot rigs were used only for fishing in deep waters, but this has since changed. Now, you can use it in waters at a variety of depths, you just need to slightly change up what you are doing to reach different levels in the water.
For the best possible results, many like to use them in slow water using small twitches, and stopping often.
They are most ideal to use when the water temperature is low, and you can try it in rivers and lakes to get some practice in an area where you can find perch.
Essentially, a drop shot rig is a fishing rig that is designed for finesse fishing, and it involves tying the line to a hook with a trailing leader at the end, which is weighted.
The hook and bait will be positioned higher than the weight. This method is more than effective, which is why more and more people are moving on to use the drop shot rig.
You can use a variety of fishing lures for this method, and the idea is that you take it all the way to the bottom, where the fish are likely to be gathered, especially when it is colder outside.
It is also suggested that for the best results, you should combine this rig with a light braid that weighs around 10lbs.
This will help you to know when you have a bite, and it will also allow you to feel a lot more due to the lack of stretch in the braid. Softer lures that range from around 3cm to 9cm are also highly recommended.
Who Can Try Drop Shotting?
If you have not yet had the chance to try drop shotting, it is likely that one of your fishing buddies probably has, due to the fact that it is so popular in today's fishing society.
It is a great way to fish for perch, and more and more people are starting to take part, so why not try it yourself?
Anyone with some fishing experience can take part in drop shotting, there are just a few things that you will need to know, which we will explain in this article.
Is a Drop Shot Rig Hard to Use?
The best part about drop shotting is that it is really easy to learn, and there aren't any complex instructions that you will have to follow.
You only need a bit of fishing knowledge, essentially just how to cast a line, and you are pretty much good to go on and learn how to use the drop shot rig.
Another great thing is that it is really fun once you get the hang of it, and you should be able to catch a decent amount of perch.
All you need to take part are patience, a small, really light rod and reel, a weight, and a lure, and then you are ready to start.
You can go to places like canals for some practice, but there are lots of still water places and even rivers that you can try your luck at.
Something else that you should know is that even though the drop shot rig is great in colder weather, it can actually be used all year round due to the fact that it works well both pre and post-spawn.
The only place that you don't want to use this rig is in places with particularly thick weeds or vegetation, as this can cause your weight to get stuck.
Essential Kit for a Drop Shot Rig
The first and most obvious thing that you will need is a fishing rod, but there are some things that can make the experience easier.
Ideally, you should use a lightweight rod so that you can get a better feel of the bite, and any weeds or vegetation that you may be passing through. Ideally, you should use a 0-15 gram model for drop shotting.
Following on from this, you will need a reel. This is essential as you will be holding the rod for a long time period. There are companies that offer reels specifically for drop shot rigs.
You will also need to get your hands on a thin and lightweight braid, as this is the most ideal type for drop shotting.
The lack of stretch allows you to tell the movement on the lure more easily, and you will better feel the perch bites.
You should also use a fluorocarbon leader that is around 2 feet in length. This should be more than enough for this specific purpose, and this will be tied to the braid using a knot.
You will need to use hooks, but you can get drop shot hooks which are specifically designed for this purpose. They usually have a different shape that allows the lure to sit horizontally in the water.
The weights that you use will also have a significant impact on your fishing experience.
You can use a weight that is with a ball or pencil shape, and both have different advantages. Due to the fact that the ball is denser, you will be able to feel the lure more easily.
The pencil weights are generally better to use in areas with more vegetation. You will need to use a light weight, and this will allow you to feel the bite better.
Ideally, you should use a 1g weight for every foot of water on still waters and canals. This will change to 2-3g per foot of water on rivers and moving water, depending on how strong the current is.
The final thing that you will need to use is a lure. The lure is what will attract the fish and get them to bite.
There are lots of different lures available that you can use, but you shouldn't use any that are bigger than 3-inches for this purpose.
For the best results, you should carry a few different lure types with you, and you can change them out to see which works best for you in that specific environment.
How to Tie a Drop Shot Rig
The first thing that you will need to do is to tie a hook around the line with a 12 to 18-inch tag end. You will then need to move the tag end through the eye of the hook, ensuring that the pointed part is facing upwards. Finally, run it out the bottom to streamline the hook with the line.


Now, you will need to add the weight to the end of the line. As we have previously mentioned, you can use either a ball or pencil weight for this step.


Finally, you will need to attach the lure that you are going to be using.
How to Fish a Drop Shot Rig
The most important thing to remember is that when the rig is in the water, and the weight has reached the bottom, you will need to gently move the lure to attract fish.
This allows you to lure the fish in, and you should be able to feel when you have a bite.
The weights will allow you to move them anywhere under the lure so that you can adjust the depth that the lure is at.
You should try starting at around 6-8 inches from the bottom, but you can adjust your position if you aren't getting any luck.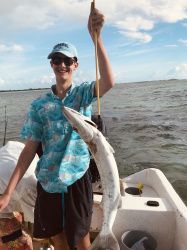 Latest posts by Andrew Marshall
(see all)