Fishing backpacks and slings differ rather significantly from your usual backpack.
While anglers once used boxes to store and transport their tackle and gear, the emergence of specifically designed backpacks and slings come with designated compartments that accommodate all of your tackle and tools.
Instead of trying to transport a weighty box, you can carry all that you require inside your backpack or sling.
While fishing backpacks and slings are a fairly modern introduction to the sphere, there are many options to choose from and the selection can appear overwhelming. That's where we come in.
We have browsed the market and selected our top 10 picks of the best options available. Below, you will find our handy buyer's guide where we have identified some factors that you will need to consider before making your purchase.
If you are in a hurry, you will find our top pick below!
The Piscifun Fishing Tackle Backpack comes with multiple storage compartments, one of which is designated to tackle boxes. Impressively, you are provided with four trays for your tackle that are compatible with this compartment.
This backpack has a total of 11 compartments which can be further divided into 18 compartments using the removable clapboards. Because of this, you can set the interior of this backpack as you would like ensuring that you have the space that you require available.
As for durability, this backpack has been made from water-resistant high-density nylon which is super tough and resistant to damage. The water-resistant coating helps to maintain the quality even when exposed to water or rain.
Pros
You can choose from three different colors depending on your preference.
This backpack is covered by a 1 year warranty.
The thick pads ensure that it is comfortable against your shoulders.
The incorporation of reflective stripes keeps you visible at night.
Cons
Some may find the compartments of the tackle trays provided to be a little narrow.
Although primarily marketed as a military tactical backpack, the durable construction makes it a great choice for fishing.
The body of the bag has been made from 1000D polyester with a water-resistant coating. As such, the backpack resists damage and also retains its shape for improved wearer comfort.
This backpack has many compartments so you have plenty of room available to store your fishing tackle. It also features a molle system for additional storage and corded zippers that allow easy access into each compartment.
The shoulder straps are adjustable so you can carry the backpack comfortably. It's also designed with a detachable waist and chest belt that provides more support when carrying the backpack.
Pros
The back panel has mesh padding to allow for effective air circulation.
It's affordably priced - great for those on a budget.
It is generously sized with a 40L capacity.
There are many storage compartments so you have plenty of room for all of your tackle.
Cons
The durability of the backpack could be improved to ensure that it sees you through many uses.
Combining the qualities of a backpack and sling, the Ghosthorn Fishing Tackle Backpack allows you to wear the straps over two shoulders or one shoulder depending on your preference.
Measuring 14.5" x 8.2" x 5.1", this backpack is generously sized and can store your fishing tackle and other equipment. Courtesy of the molle webbing design, the backpack can hold your pliers and hooks, etc.
There are also multiple D rings that can secure additional equipment that you don't want to carry.
In regards to comfort, this backpack features a padded back and shoulder straps for greater comfort. The back panel also has a mesh covering for enhanced ventilation and breathability.
When worn during the dark, the reflective straps ensure that you remain visible.
Pros
This backpack is covered by a 1 year warranty and a 30 day refund policy.
Retailing within an affordable price range, it is great value for money.
The design allows you to wear this backpack in multiple ways depending on your preference.
The back panel is ventilated for greater comfort.
Cons
Some may find this backpack a little too small for their needs.
Boasting multiple storage compartments, the Piscifun Fishing Tackle Sling Bag is equipped with multiple compartments for all of your fishing tackle, lures, and pliers, etc. Along with the 3 pockets inside the bag, there are three external pockets.
Durably designed, this sling bag has been made from 1000D nylon fabric which is abrasion-resistant. It is also water-resistant so it isn't going to become damaged following contact with the water or rain.
Although this is predominantly a sling bag, it can be carried in a variety of ways. Depending on your preference, it can be carried like a chest bag or a crossbody backpack.
It also features interchangeable straps so you can choose whether you carry it on your left or right shoulder.
Pros
The reflective straps keep you visible in the dark.
There is a range of colors to choose from.
This bag can be worn in multiple ways depending on your preference.
The back panel is made from mesh for improved breathability.
Cons
The quality could be improved as the stitching is prone to fraying after a few uses.
The SpiderWire Sling Fishing Backpack features an exciting design with stylish webbed detail. While this bag may appear smaller in size, it has a main compartment that can store up to 2 tackle boxes.
It also features multiple other compartments that provide a storage solution for additional equipment.
Made from polyester this is a durable sling backpack that is going to hold up against frequent use pretty well. The strap is padded for improved comfort and the position of the D rings left allows you to position it on the left or right side depending on your preference.
While most of the compartments feature a zip fastener, the front compartment is secured by velcro and both allow for easy access to your tools. The bag itself is also pretty lightweight at 1.32 pounds.
Pros
This backpack is covered by a lifetime manufacturer's warranty.
The strap can be worn on the left or right depending on your preference.
The padding on the strap makes it more comfortable to wear.
It isn't bulky so it is going to be easier to transport.
Cons
Even on the shortest setting, the strap is particularly long and this may be problematic for shorter users.
Best Fishing Backpacks and Slings Buying Guide
Before investing in your fishing backpack or sling, it is worth considering the following criteria to ensure that your purchase caters to what you are looking for in your purchase.
The Type of Backpack
Throughout this guide we have been focussing on two different styles of backpacks; a traditional backpack or a sling. The type that you choose is likely to be decided by your personal preference.
A traditional backpack has two straps that distribute the weight evenly and for this reason, some may find them more comfortable to wear.
A sling is designed with a single strap that sits across the body and you can choose which shoulder you want the backpack to go across.
The Storage Compartments
The amount of tackle that you are going to be carrying inside your backpack is going to depend on the type of fishing that you enjoy.
However, it should be effectively designed and sectioned so that you can access your tackle with ease. You don't want to be sitting on the bank with a good catch insight only to miss your opportunity as you couldn't get to the tackle soon enough.
If you are an irregular fisher or you only fish for a short amount of time, you aren't likely to require a huge amount of storage space. However, if you are a frequent fisher you will want to opt for a backpack or sling that offers a generous amount of storage.
Ensure that your backpack can accommodate your tackle boxes and other equipment. Most will likely benefit from a section to store their trays along with a main compartment and smaller additional compartments that can hold the excess gear.
The Quality
When investing in a fishing backpack or sling, you want it to last for a decent amount of time.
The quality is closely linked to durability because a poorly made rucksack or sling is likely to deteriorate at a much faster pace than one that has been made from high-quality materials.
You will also need to ensure that your chosen product can carry all of your equipment without tearing under the pressure. Overfilling a small backpack is likely to cause the backpack to break.
The zips should be made to a high standard so you can open and close the backpack with ease. It should also be durably stitched so that it can hold the weight and regular use.
The Water Resistance
Your fishing style is going to determine the need for a water-resistant bag.
Should your bag make unexpected contact with the water or you're caught in a downpour, a waterproof backpack or sling is going to preserve the quality and prevent it from becoming damaged.
If you like to fish from a distance then this factor may not be as important to you although it is worth considering purely on a weather front.
For those who like to go in the water, your backpack or sling will need to be water-resistant to ensure that they resist damage and keep the contents safe and intact.
The Comfort
You must consider your comfort as the person who is going to be bearing the weight of the backpack or sling.
Padded shoulder straps are preferable as this provides more support and ensures that they aren't in direct contact with any uncomfortable material.
Many will also feature a back panel that holds the contents of the bag in a particular position so you don't have any awkward pieces poking into your back.
The Material
Most fishing backpacks and slings are made from nylon, a lightweight material that offers excellent durability. For the water-resistance effect, most will be coated with TPU.
Your backpack must be made from strong materials, otherwise, it is likely to be ineffective in serving its intended purpose.
The Weight of the Backpack or Sling
The weight of the backpack is going to be determined by what you intend to carry inside. When packing for your fishing trip remember that have to carry the weight of this backpack to and from your fishing location.
Many people prefer a traditional backpack for this reason. Unlike the design of a sling, a backpack ensures that the weight is evenly distributed and this is particularly useful if you have a lot inside. Again, this is going to depend on your preference.
The Price
The price of fishing backpacks and slings can vary rather significantly. You will often find that slings provide a more affordable option, however, this isn't to say there aren't high-quality backpacks available at a cheaper price too.
It is worth having a budget in mind before you begin to browse the market so that you can cater your purchase towards this.
Frequently Asked Questions
Do I need a fishing backpack?
A fishing backpack can be a super convenient addition to your fishing trip.
Providing an effective storage solution, a backpack is going to make it much easier to transport your tackle in between locations.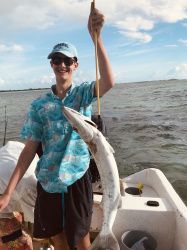 Latest posts by Andrew Marshall
(see all)