To the untrained eye, casting rods look very similar to any other kind of rod. They have a pole, a reel, some guides, and a handle of some sort.
The first difference most people notice is that a casting rod has the reel sat on the top of the rod rather than below.
The other differences are a little subtler but nonetheless important.
When it comes to choosing a casting rod, you need to first understand what it is you're looking for.
That's why we've created a comprehensive guide that will help you understand what a casting rod is and what's important to look for.
Once you're all clued up, you can take a look at our casting rod reviews.
These will help you select the perfect rod!
Going fishing? Here's our top pick: Ugly Stik GX2 Casting Fishing Rod
Reliable model from a reliable brand.
5 length options.
3 power ratings.
Comes in one or two-piece construction.
Clear, sensitive tip.
Performs exceptionally well in break tests.
High-quality at a low cost.
Shakespeare is the name when it comes to fishing equipment. The company has been operating since 1897 and the Ugly Stik has been available since 1976.
Over 100 years of operation have given Shakespeare fishing equipment quite the reputation.
The Ugly Stik, now in its 45th year has also made a name for itself as a tough, hardwearing rod that is nearly indestructible.
The newest iteration, the GX2, lives up to its predecessors.
The graphite and fiberglass blank is lighter than any other Ugly Stik but it still retains that crucial backbone strength.
The rod feels nicely balanced in the hand. It would pair well with a low profile baitcaster reel.
The tip is clear as is expected of an Ugly Stik. It has superb responsiveness. You'll be able to feel and see even the lightest nibbles.
Like the Piscifun rod, this one features an EVA handle grip to prevent fatigue. It is comfortable and durable.
Meaning you can cast all day long and not worry about your hand aching.
One of the best things about this rod is the 1 piece construction of the guides. There is no insert which means you won't get inserts popping out.
It seems like a little thing but it's refreshing to see. Broken guides are incredibly frustrating.
In terms of options you can choose from 5 different lengths, 3 power ratings from medium to heavy, and you have a choice between a one-piece rod or a two-piece rod.
The option to break your rod down into two pieces is ideal for those who are limited when it comes to storage and transportation space.
It's particularly handy if you like to take your rods on holiday or camping trips. If you look at the review section for this rod, it is filled with people talking about how they have Ugly Stiks older than themselves!
Honestly, if you had any doubt or concern about the Ugly Stik's durability or handling, take a cursory glance at the reviews. Your worries will be assuaged straight away.
Pros
Well established brand.
5 length options.
3 power rating options.
Choice between one-piece or two-piece rod.
Highly responsive tip.
Comfortable grip.
Excellent value.
Almost unbreakable.
Cons
The butt section of the handle is shorter than you'd expect.
This is a two-piece, 7' rod with a power rating of medium and medium-heavy. It has that dual rating because it is supplied with two tips just like the KingKast rods.
Unlike the KingKast rods, you don't get a choice when it comes to length or construction.
This means if you're looking to get a few rods of different lengths from the same manufacturer, you'll want to look elsewhere.
If however, you are looking for a sturdy, well-designed 7' rod, you're in luck.
This rod is made from 24ton carbon fiber which is strong, durable but lightweight. It looks fantastic, to be honest with you. It's sleek, modern, and stylish.
The handle is made from durable EVA and is finished with a camo print finish. It's not everyone's cup of tea, but if you're into that kind of thing, it's great.
Putting the aesthetics aside, the handle and reel seat design is wonderfully ergonomic. They help to reduce fatigue during long landings or multiple casting.
The guides are stainless steel with a ceramic insert. Again, you have to be careful with inserts because they have a habit of popping out under pressure.
From the customer reviews, it seems like these guides are wonderfully smooth and durable. This is excellent news!
One thing that customers seem to like is the reel seat. The design means it's a full exposure reel seat giving the best fit and grip of any of the rods here. It uses aluminum hoods to hold the reel in place and performs exceptionally well.
If reviews are to be believed, this rod does not allow any torque or twisting on the reel foot during the toughest of landings.
Finally, one of the best things about this rod is the price. It's phenomenally low for the quality of the products.
This rod is part of ENTSport's E series which is a range specifically designed to bring quality products at low costs.
Pros
Sleek and stylish look.
Incredibly low cost.
Great quality for the price.
Supplied with two tips.
Excellent reel seat design.
Cons
No choice of length or power rating.
Difficult to separate the two parts if joined off-center.
With this rod, you have a choice of 4 lengths and 3 power ratings from medium to heavy. All rods are one-piece construction which will please the purists out there.
One-piece constructions are generally thought to be more durable and more tactile. This is certainly the case with the Vengeance Casting Rod.
The rod is made from 24-ton graphite making it tough but lightweight. Customers generally seem to agree that the blank itself is durable and able to cope with significant stress.
The guides are stainless steel with titanium inserts. The inserts do provide smooth running action for your line.
There are some reports of wear on the inserts suggesting that maybe they are not quite as durable as other brands.
The high-density EVA handle is comfortable and easy in the hand. It reduces fatigue over a long day for fishing.
In terms of looks, it's not the prettiest rod. It looks sort of like an aluminum pole with a foam handle. If you're not bothered by looks, then by all means proceed with this rod.
The rod has a nice solid feel in the hand. It's well balanced and allows you to cast with considerable ease and accuracy.
There are a few reports of guides breaking free of the binding. This would suggest that the bindings are weaker than the rest of the otherwise sturdy rod.
Pros
Comfortable handle.
4 lengths available.
3 power ratings to choose from.
Sturdy, graphite blank.
Simple design.
Low cost.
Cons
Some reports of broken guides.
Not the nicest looking rod.
Best Casting Rods Buying Guide
Review Summary
Ultimately, if you want a rod that is reliable, durable, and great value for money you'll want to go for the Ugly Stik.
It's a model that has proven its mettle over decades and can be relied upon in the fiercest struggle.
The Piscifun is another excellent choice. It comes in as slightly more expensive than the Ugly Stik but it performs equally well.
Both of these rods are sensible and reliable choices. You have a great range of choices both in terms of length, power rating, and even the number of parts.
If you're after interchangeable tips, you should go for the KingKast or the ENTSports.
The KingKast gives you options when it comes to length and power rating. Which makes it a more versatile choice.
The ENTSport has value on its side. It is also a two-piece rod that suits those who lack storage space.
Unlike cheap, low-quality two-piece rods, the ENTSport has excellent power transference.
Finally, we have the Vengeance. It's a no-nonsense rod that can handle more than you'd think.
Understanding Fishing Rods
If you take even a cursory glance at fishing rods you'll come across a dozen different terms that can be very confusing if you have no previous knowledge on the subject.
We're here to fill that void.
Parts of a Rod
A fishing rod refers to the long slender pole that you hold when fishing. It is separate from the reel although the reel does attach to the rod.
Starting from the bottom of the rod you will see:
Butt cap - this is the thickest end of the rod. It is usually made of cork like the handle and is slightly splayed. The butt cap is supposed to prevent your hand from slipping off the rod.
Handle - the handle includes the butt cap. It is the area of the rod usually covered in cork or foam. This is where you hold the rod. It is the thickest part of the rod and should be designed with comfort and grip in mind.
Reel seat - The reel seat can be found towards the top of the handle. You can identify it by the lack of cork or foam. It's like a bald spot in the handle.
The reel seat is where your reel sits. It will have a screw cap that is loosened to allow the reel foot to slip into its groove.
Once the reel foot is in place, the cap is tightened. This moves the cap up and over the foot, pinning it in place.
Trigger - the trigger is a small piece of plastic or metal that sits below the reel seat. The idea is that you can wrap a finger around the trigger for added stability when doing one-handed casts.
Blank - The blank takes up the majority of the fishing rod. It is the hollow pole that extends out of the handle.
Guides/Eyelets - Along the blank, you will see protruding rings. These are known as guides or eyelets. The fishing line is fed through these guides to prevent tangling.
Ferrule - This is a hollow metal tube that is used to attach two blanks. Each blank will have one protruding ferrule known as the male and one ferrule opening.
The male is pushed into the female ferrule and sits snugly inside. This keeps the two blanks together and prevents twisting or rotation.
Tip - This is the top section of the rod. It is the part that will bend and flex when you are pulling in a catch. They are often made of carbon fiber or fiberglass.
Tip Top - This delightfully alliterative name is given to the final eyelet on the rod. It sits at the top of the tip and is key to preventing tangles.
Types of Fishing Rod
Now that we know all the composite parts, we can take a quick look at the different kinds of rods available.
You see, a casting rod is not the only rod available.
Spinning rod - Perhaps the most common of any rod, the spinning rod is ideal for beginners and pros. It is usually paired with a spinning reel which is attached to the reel seat below the rod.
Casting rod - Another common rod, the casting rod is better suited to intermediate to advanced fishers. It can be identified by the placement of the reel. The reel sits on top of the rod meaning the eyelets will face the sky rather than the water. You may also notice a trigger near the reel seat. It is used for grip when casting one-handed.
Fly rod - These are built to accommodate fly reels which sit right at the end of the rod after the handle.
Fly fishing is quite different from traditional fishing and requires different skills. It is a more dynamic action than casting and waiting.
Telescopic rods - These rods collapse down to a small manageable size. They are ideal for traveling or if you are restricted when it comes to storage space. Initially, they were looked down on as flimsy and gimmicky but these rods have come a long way. They are now reliable, handy rods.
Beach casters or surf rods - These are the largest rod you'll come across. They are designed to help you cast out beyond the surf. They are usually paired with a spinning reel to match their size.
Fishing Rod Ratings
Rod ratings are indications of the size and use of a rod. There are a few markers that are used to identify and rate the rod.
Usually, the ratings are printed on the blank immediately above the handle. This way they are easily visible for reference.
The ratings you will see include:
Make or model of the rod.
Rod action.
Power rating.
Line weight.
Lure weight.
The make or model of your rod will vary from maker to maker. Some use strings of numbers and letters, others use names.
This information is useful when it comes to buying parts or replacements. Rod action refers to how quickly the tip of the rod returns to its neutral position after pressure is released.
The action is given a speed rating of slow, medium, fast, or any combination thereof.
Generally, the slower the rod action the bendier the tip. This is because the tip has further to go when returning to the neutral position.
Power rating is all about the strength of the backbone of the rod. It is a measure of how much weight the rod can take.
Power rating goes from ultra-light to extra-heavy with 5 stops in between. The heavier the rod the quicker the rod action and the heavier load the rod can bear.
Let's take a look at those ratings.
Ultra-light - These are the lightest you can get. They are designed for small fish with little weight or strength to them. Fish you could go after includes panfish, crappies, or small trout.
Light - A bit of a step-up bit still fairly soft. These rods are ideal for species with a softer bite. Suggested fish include walleye, panfish, and trout.
Medium-light - This is the lowest rating for saltwater fishing. A medium-light rod can be used in freshwater as well as saltwater. They stiffen quicker making them ideal for hook sets and jigs. You could go after medium-sized salt or freshwater fish.
Medium - This is, well, a happy medium. You can use this rod with a fairly wide range of lures and baits. Generally from about ¼ oz to ¾ oz. A medium power rod is ideal for holiday anglers and more dedicated anglers. It can cope with a wide range of species from small and largemouth bass to smaller salmon breeds.
Medium-heavy - This is a good balance between strength and action. A medium heavy rod will still have a bit of bend to it but it returns to neutral slightly quicker than lighter rods.Medium-heavy rods are what you see on most fishing boats. It is ideal for bass, salmon, catfish, or similar.
Heavy - this is a significantly powerful rod. It is designed to move large, heavy fish effectively. It can cope with heavy bait setups and the torque from trolling. If you are deep-sea or deep structure fishing you'll want a heavy rod to cope with the big fish you'll be pulling in.
Xtra-heavy - These are the powerhouses of the fishing rod world. They can carry the heaviest jigs and lures but still move large fish. If you're trophy fishing, this is the rod for you. You'll land big whoppers with one of these.
Sometimes rod action and power ratings are combined on fishing rods. Generally when this happens one of the ratings is not listed. In these cases,
Line weight tells you how heavy a line to use. It is measured in lbs and should not be ignored.
Using too light of a line on too heavy of a rod will result in the line breaking under pressure.
Using too heavy of a line on too light of a rod will see the rod snap under the torque and pressure. Line weights should not be ignored.
However, if you are using a braided line over a monofilament line you can generally add a few pounds to the rating.
Finally, the lure weight rating tells you what weight lure to use to get the best cast. It's not a hard and fast rule like the line weight. Instead, it's more of a guideline or indication.
Lure weight is used to describe the ideal load for your lure or bait. It's important that you use the recommended lure weight otherwise you'll find that your cast is off.
The power of your cast is transferred to the lure but power can only do so much. It needs to end up in an appropriately weighted lure to be used effectively.
Using too light of a lure will shorten your cast. This is because there simply isn't enough weight to draw the line out.
Think about throwing a ping pong ball versus throwing a tennis ball. The tennis ball goes further because it's able to make good use of your power and its weight.
A ping pong ball is too light to make effective use of your power. Its velocity is capped thanks to its weight.
The same applies to your lures. Now, if you go for a heavier lure than recommended you'll find your cast to be sluggish.
It will again fall short because a heavier lure needs a lot more power to travel the same distance.
If we return to our imaginary ball throwing, it's like trying to throw a bowling ball versus a tennis ball.
Choosing a lure that sits right in the middle of the recommended range will give you the best cast.
You'll be able to reach optimum casting distance and have better control over the accuracy of your cast.
Rod Length
Casting rods are available in sizes ranging from 3 feet to 11 feet.
Which length you choose depends on the kind of water you're fishing in and the type of fish you're hoping to land.
It's difficult to give a definite recommendation for what rod length you need. There are so many different situations and scenarios that would affect your choice.
Our general advice is that the longer the rod the further you can cast. If you have to get out past surf, you need a longer rod.
However, casting distance comes at the cost of accuracy. For an accurate cast, go for a shorter rod. This is helpful for fishing near docks.
New anglers should go for a shorter rod. This will help them get the hang of casting and fishing in general. Ideally, a rod between about 5-foot or 6.6 feet is best.
Kids should stick to rods under 5 feet until they have a bit of experience.
The average rod size is around 7 feet. This is a good length for a variety of fishing scenarios including lake fishing, river angling, and some trolling.
Generally, if you are trolling you need a longer rod to help compensate for the torque as you drag the bait through the water.
Finally, you need to remember that length does not equal strength. If you are fishing for large and heavy fish, you need a strong rod. This comes down to the power rating, not the length.
Fishing Methods
There are essentially 5 different methods of fishing. Within each method there are variations but they don't fully constitute a different method.
The 5 basic fishing methods are:
Bait fishing - Probably the oldest method of fishing, it involves dropping bait down towards the bottom of the waterway and waiting for a fish to tug. Bait fishing requires the use of sinkers to weigh down the bait and take it to the grazing level of fish. Bait fishing might also include the use of bobbers to help float the bait at the right level. It ultimately depends on the type of fish you're after. Bait is attached to the hook to entice fish and could be maggots, worms, smaller fish, cheese, vegetables, grains, or any other appetizing food. Ice fishing is a form of bait fishing popular in the Northern United States and Northern Europe.
Fly fishing - Fly fishing uses a longer rod and heavier plastic-coated line. The lure that conceals a hook is usually made from feathers, hair, or synthetic proxies. It is designed to look and act similar to flies and other insects that hover over the water. In fly fishing, the angler whips the rod back and forth. The heavier line pushes the lure or 'fly' towards the water's surface but pulls it away before it splashes and frightens away the fish. The aim is to fool the fish into trying to eat the 'fly.' It is a much more involved method of fishing that requires a bit of finesse and practice.
Baitcasting - This method is very similar to spinning in that a lure is cast into fish-rich areas and reeled in to mimic live prey. The lure is usually made of metal and is designed to look like a fish or reflect light the way a fish does. What differentiates bait casting from spinning is the length and configuration of the rod, the weight of the line, and the reel. Casting rods place the reel on the top with the guides facing the sky. The line tends to be heavier and the rod tends to be shorter than spinning rods.
Spinning - Similar to baitcasting, a spinning lure is attached to the line and cast into the water. The angler moves the lure in the water by jerking the rod and reeling in the line. The idea is to attract predator fish with the movement but not to give them a good enough look at the lure to realize it's not food.Spinning rods place the reel facing downwards along with the guides. The rod tends to be a foot or so longer than casting rods but the line is lighter.
Trolling - Trolling involves dragging a line behind a boat. The boat moves fairly slowly through the water as the bait or lure follows behind. This is the main method of big game fishing as it allows anglers to cover large areas of territory. To be successful you need to get the depth and speed of the lure just right. It is a method that takes a bit of practice and a lot of luck.
Baitcasting Vs. Spinning
While there are similarities between spinning and baitcasting, the two are separate methods requiring different equipment.
You shouldn't mix spinning reels and casting rods or vice versa. What you'll end up with is a tangled mess.
It's not just the kit that is incompatible. You use a different casting technique when using a baitcasting rod and reel to when you use a spinning rod and reel.
This is mainly because the reels are configured differently. A spinning reel not only sits below the rod but also holds the spool perpendicular to the rod.
This means the line needs to turn in order to run along the blank and through the guides.
To prevent the line from tangling as it makes this turn, spinning reels have a bail arm or bail guard. This is a slim metal bar that runs around one half of the spool.
To cast with a spinning reel you need to lift the bail to free the line.
However, the spool doesn't spin during casting. Instead, the line is pulled off the spool by the force of the lure.
To prevent the line from unspooling as you prepare to cast, you need to pin the line against the handle with a forefinger.
Your forefinger needs to hold the line in place throughout the backswing and only release at the peak of your swing. This allows the line to unspool as the lure is propelled forward.
Once the lure has landed you need to reengage the bail to prevent tangles and unspooling.
This is perhaps the easiest kind of casting. Spinning rods are usually recommended for beginners because they are so easy to use.
With a baitcasting rod, the reel sits atop the rod and the spool runs parallel to the blank.
When you cast with a casting reel, the spool moves with the cast and gives out line. This can be difficult to control for new anglers.
If you don't keep on top of the spool you can end up with a bunched line. This happens when the spool gives out faster than the casting line can fly.
It's crucial that you use your thumb to brake the line as it goes out. Otherwise, you'll end up in a knotty mess.
Casting Rods: Are they Right for You?
Casting rods are not for everybody. They certainly aren't ideal for beginners.
Casting rods are best suited to anglers who have a bit of experience and want to branch out into different fishing methods.
Casting rods can be used for baitcasting, but they are also great for bait fishing and trolling. The placement of the reel on top of the rod makes them better suited for rod holders when bait fishing.
They are also much more adept at dealing with the torque generated by trolling, especially when using a downrigger.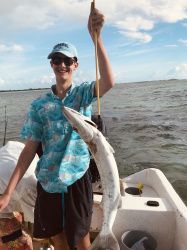 Latest posts by Andrew Marshall
(see all)